IMAGINE: The New World of Education
Join us for conversations with diverse voices across the global education community
As the world changes rapidly, at Amazon Web Services (AWS) we are committed to helping education institutions focus on what matters most: their students. Join us for IMAGINE: The New World of Education, a webinar series that explores the challenges and opportunities that education institutions around the world face. Learn from education leaders, including university presidents, chief information officers, district leaders, and researchers, as they share their stories about the future of education.

Featured webinars
How NYU leveraged data to guide its hybrid cloud migration journey
Learn how NYU overhauled their approach to understanding and using data, extracted value from the data to achieve significant cost savings, and drove better operational alignment.



Creating a cloud-ready culture to support digital transformation
Organizations across education are implementing cloud technology at an accelerated rate. Discover the steps needed to transform your organization's culture into one that empowers employees.


An approach to modernizing research through the cloud
Learn how Texas A&M replaced their lengthy purchasing and research procurement and implementation process for grants and agreements by developing a platform on the AWS Cloud.


More from IMAGINE: The New World of Education
Date

Event Name (A-Z)

Event Name (Z-A)
No events found matching that criteria. Check back as new content is released monthly.
Key topics
The content in this series has been carefully curated around topics that are of key interest to education leaders and their teams.

Enabling learning continuity and student success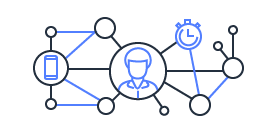 Delivering access to virtual learning and working solutions
Building resilient education institutions
Never miss an update. Join our mailing list.

Would you like to receive updates about IMAGINE: The New World of Education sessions? Subscribe to stay up to date on what's new.