AWS and Community Outreach
Making a positive impact around the world with AWS InCommunities
Amazon Web Services (AWS) is committed to making a positive difference around the world. Whether it's using technology to solve the world's most pressing issues, or through our employees donating their time to support causes they care about, AWS is dedicated to building a world where every person has the opportunity to live a life of dignity on a healthy planet.
To make a positive impact, specifically in the regions where we build and operate our global infrastructure, we established a program called AWS InCommunities. AWS InCommunities launches long-term, innovative programs that will have a lasting impact in our regions around the world where we work, live, and raise our families. AWS InCommunities is obsessed with being good neighbors, andwe start with the community and work backwards to represent infrastructure communities inside AWS.

The AWS Family Tech Series event offers a wide range of exciting content including tech keynote presentations, workshops and demos, and a learning hub with educational videos for all ages. This year, the program comes to you virtually, the content is available in many languages and will remain accessible on demand. Register here.
How AWS InCommunities is committed to making a difference
There are four pillars that anchors the work of AWS InCommunities. All programs align to these four pillars: STEAM Education, Access, and Equity; Local Tech Upskilling, Environmental Stewardship; Employee Engagement.
To make a long-term impact in the communities where AWS builds infrastructure, the four pillars direct how we make a difference.
Global Signature Programs
AWS is dedicated to inspiring future builders, especially those from underrepresented and underserved communities who reside in areas where we have a physical presence. Through our Signature Programs, we help increase thousands of students' access to STEAM education opportunities in fun and imaginative ways. We are intentional about adding the "A" to "STEM" because we know that the arts help build future-ready students who develop into well-rounded and creative problem solvers.
AWS Tech Week
Tech Week is a global initiative that inspires employees to participate in and lead tech-related community events. Options range from mapathons to identify locations for disaster relief efforts, to sessions on STEAM and cloud careers in schools, and other service activities.
Girls' Tech Day
Our Girls' Tech Days emphasize STEAM for school-age girls and young women. Designed to inspire future builders, these workshops showcase tech careers and women in the technology workforce, and introduce girls to STEAM.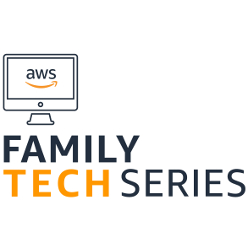 Family Tech Day
AWS Family Tech Series is a program that seeks to inspire future builders and engage with their families in a fun and educational way throughout the year. Families and communities around the world are invited to discover and play with the latest tech concepts, learn from technology subject matter experts, and learn more about cloud computing, and career paths in technology.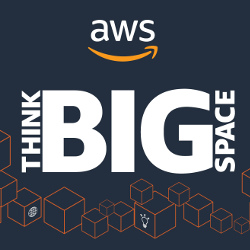 Think Big Space
AWS Think Big Spaces provide a place beyond the standard classroom for students to explore and cultivate an interest in STEAM and STEAM related careers. These labs encourage a hands-on approach where students think big to solve real-world problems.
Recent events
Below are some examples of how we are making a positive impact around the world.

---
Virtual Volunteering Around the World
Volunteers are contributing their time and knowledge to helping those in need through our Virtual Volunteering initiative.

Activities include keeping people with visual challenges engaged, learning sign language to become more inclusive, creating recordings of storybooks for educational purposes, and creating artwork to inspire older adults.
---
One Book, One School Supports Literacy in Virginia
Students and their family members participated in "One Book, One School," sponsored by the AWS Think Big Space at River Oaks Elementary School. The program is designed to support family literacy by supporting school-home connections, and is part of a monthly series sponsored by AWS InCommunities in support of literacy and reading for primary students. Students read "Sophie Washington: The Snitch," met the author, and were treated to read along with AWS volunteers. AWS InCommunities donated a book to every student at River Oaks, and the classrooms with the highest level of participation won books for their class libraries.

---
Inspiring Women Today for a Better Tomorrow in Ireland
Through the "Inspiring the Future" Program, volunteers visit local schools and share their own unique career journeys with young people. The aim is to challenge long-standing gender stereotypes and inspire the way young people view their own potential future paths, giving them real-life role models to look up to. Women in Ireland can sign up today and start inspiring the next generation here.

---
Arbor Day in South Korea
The Earth needs more green cover. To help communities understand this very concept, AWS volunteers planted pots and donated them to the local community on Arbor day in South Korea.

---
Ambassador Spotlight: United Kingdom
Nisha joined AWS as a Technical Account Manager and has been actively volunteering in the Inspiring The Future program. Her main aim is to show the younger generation how technology, and cloud computing in particular, is helping citizens, businesses and societies. "Most young people, I find, are still unaware of the concept of cloud computing, data centers, machine learning and artificial intelligence and the Inspiring The Future program provides a great platform to introduce these technologies to the next generation. I also like to take the opportunity to share my career journey with students."
Nisha has formed a network of volunteers who are passionate and keen to help inspire the future. "I hope to inspire students by sharing the challenges I faced, and how I overcame them to get to where I am today. I also hope I have been able to address the myth that coding is essential to get a job in IT. If one is keen to get into tech, there are various roles such as hardware engineering, operational support etc. which are also available."

More ways AWS is giving back
Learn more about AWS InCommunities programs around the world