Topics: Nonprofits
Eliminating Barriers to Food Security with The Houston Food Bank
September 2022
Food insecurity and hunger are known global challenges, and as a result, many people rely on local organizations to feed themselves and their families. As the largest food bank in the United States, the Houston Food Bank depends on its robust volunteer program to serve the Southeast Texas population, including home-bound individuals. As an Amazon Web Services (AWS) IMAGINE Grant winner, the Houston Food Bank developed a mobile application to streamline its home delivery service and, in turn, created a better volunteer and user experience. To learn more about the benefits of the cloud-based mobile app, the Fix This team sat down with Cara Gabris, director of distribution at the Houston Food Bank.

Cara Gabris
Cara Gabris is the Director of Distribution at the Houston Food Bank. Cara has worked at the Houston Food Bank for over three years holding a variety of roles throughout her tenure. Since the onset of the COVID-19 pandemic, the Houston Food Bank began providing a home delivery service for the community's most vulnerable population. Cara has provided leadership, support, and coordination to distribute over 2.5 million home delivered meals since the inception of this new delivery model. Cara is a Registered and Licensed Dietitian and has a passion for nourishing those in need.


01:48 - Introduction to the Houston Food Bank
04:02 - Building a mobile application to meet home delivery needs
05:13 - Becoming an AWS Imagine Grant recipient
09:27 - Engaging with the community and retaining volunteers
11:41 - Scaling lessons learned beyond for Houston Food Bank


About the Fix This Podcast
Hear conversations spanning from researching climate change to improving patient outcomes to creating AI-driven art—and more. Dive deep with customers on the Fix This podcast.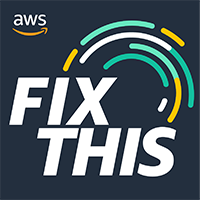 Customer Success Stories
Organizations of all sizes use AWS to increase agility, lower costs, and accelerate innovation in the cloud.