Amazon RSS Feed Generator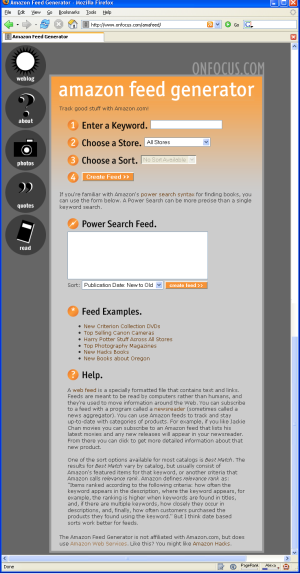 RSS feeds are a perfect way to keep track of data that changes on an irregular or infrequent basis. Instead of visiting the data source yourself as time permits, you can simply use RSS feeds to subscribe to an update stream from a site or from an application. The original use of RSS was to package or encapsulate the headlines from news-oriented sources. Later, it became a perfect way to represent the newest postings to a blog.
An RSS feed, represented by a URL, can be plugged in to a wide variety of headline reading tools and online applications. The feed is then polled on a regular basis and the reading tool will notify you when new content is available.
Several years ago, developer (and Amazon Hacks author) Paul Bausch created a tool to build RSS feeds for certain searches. The tool was quite handy, and has apparently gotten some pretty heavy usage.
Never content to rest on his laurels, Paul has just announced the newest version of the Amazon RSS Feed Generator, and it is a very worthwhile upgrade. Using the generator you can easily build feeds which search any Amazon store for a keyword, then sort it. You can also use the Power Search syntax for extra style points if you are so inclined.
The new feeds also include the product's image, description, and details (as available).
In a perfect example of how one developer's creativity spurs another developer to go even farther, Paul's blog notes that this work builds upon Alan Taylor's recent work, part of which involved the creation of some fairly complex XSLT style sheets.
Nice work, Paul!
— Jeff;