Appirio — Attachments In Salesforce.com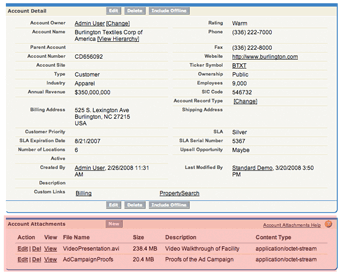 Certainly one of the most popular on-demand software applications of all time is Salesforce.com. Their "no installation" approach to software changed the CRM industry, and one of the features that made them even more popular was the ability for third parties to provide even more value via add-in applications.
One of these third party applications is Appirio, a Salesforce.com partner. Today they released Appirio Cloud Storage for Salesforce.com, which enables users of Salesforce to store more large documents and files via Salesforce.com's on-line user interface. Files stored in Appirio are safely tucked away using Amazon S3, which of course is a highly resilient and durable data store.
One of the most interesting aspects of Appirio's software from a technology point of view is that they are essentially creating a "mash up" of two clouds: Salesforce.com and Amazon Web Services. As I just mentioned, Salesforce.com users are able to simply upload case files, documents, contracts, log files, videos, etc. directly from the environment that they work in every day. Because Appirio supports files up to 1 GB in size, Salesforce users are no longer restricted by the default 5 MB upload limit. This eliminates the "where did I put it?" effect that so many organizations have, created by separate repositories for files–often behind a corporate firewall that road warriors can't access.
Behind the scenes Appirio is using Amazon EC2 and Amazon S3 for storage. Which means, in the case of storage, that there is no upper limit on how many files can be stored in Appirio's environment.
— Mike
Modified 10/24/2020 – In an effort to ensure a great experience, expired links in this post have been updated or removed from the original post.