Ask For Cents : New Mechanical Turk Application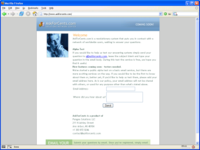 Have you ever needed to get an answer to a question in a hurry, perhaps something that you can't find in your favorite search engine? If so, you may want to tap into the internet-scale Mechanical Turk workforce using the new question asking system at Ask For Cents.
To get an answer in a hurry, you can simply email your question to q@askforcents.com . The question will be turned in to a Mechanical Turk HIT (Human Intelligence Task) and at least two people will answer your question before you get a reply.
The service is now in free alpha test mode. Workers can earn up to 3 cents for each answer that they provide.
If you use this service, please feel free to post your questions (and the answers that you get) as comments to this blog entry.
— Jeff;