AWS Global Summits for 2016 – Save the Date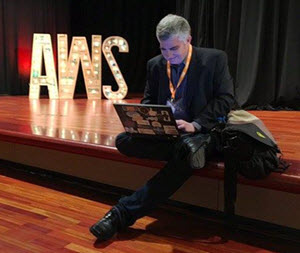 Getting Ready to present (photo by Danilo Poccia)
Late last year I traveled to Barcelona and delivered the keynote address at one of the final AWS Summit events of 2015.
My re:Invent recap was well received; the AWS users and partners in the area were excited by our newest services and left the session eager to learn more and to put them to use. As part of the keynote session, attendees learned about AWS security from my colleague Bill Murray and also had the opportunity to hear how several of our customers had used AWS.
After the keynote, attendees spent the afternoon attending deep-dive technical sessions, exploring the partner area, and meeting with each other. We wrapped up the day with snacks, drinks, and a Battle of the Bands. It was wonderful to meet so many AWS users and to learn more about their businesses and their applications.
Summits for 2016
We are now making plans for our 2016 Global Summit series. As in past years, we will focus on education—we want to make sure that you know as much as possible about whatever aspects of AWS are of interest to you, and we want you to leave the summit charged up and ready to build something new, cool, and powerful!
To see the list of cities and dates, check out the AWS Summits page. Click on the Want More Information button to express your interest in a local Summit and to receive registration information as it becomes available.
Follow Along
In addition to the page above, you can also subscribe to the AWS Events RSS feed, follow @AWSSummits on Twitter, and find us on Facebook.
— Jeff;
PS – Members of the AWS Partner Network (APN) should take a look at the 2016 Global Sponsorship Opportunities.