AWS Marketplace – Support for the Asia Pacific (Seoul) Region
Early in my career I worked for several companies that developed and shipped (on actual tapes) packaged software. Back in those pre-Internet days, marketing, sales, and distribution were all done on a country-by-country basis. This often involved setting up a field office and hiring local staff, both of which were expensive, time-consuming, and somewhat speculative. Providing prospective customers with time-limited access to trial copies was also difficult for many reasons including hardware and software compatibility, procurement & licensing challenges, and all of the issues that would inevitably arise during installation and configuration.
Today, the situation is a lot different. Marketing, sales, and distribution are all a lot simpler and more efficient, thanks to the Internet. For example, AWS Marketplace has streamlined the procurement process. With ready access to a very wide variety of commercial and open source software products from ISVs, customers can find what they want, buy it, and deploy it to AWS in minutes, with just a few clicks. Because many of the products in AWS Marketplace include a free trial and/or an hourly pricing option, potential large-scale users can take the products for a spin and make sure that they will satisfy their needs.
Support for the Asia Pacific (Seoul) Region
Now that the new Asia Pacific (Seoul) Region is up and running, customers located in Korea, as well as global companies serving Korean end users, can take advantage of the AWS Marketplace. There are now more than 600 products available for 1-click deploy in categories such as Network Infrastructure, Security, Storage, and Business Intelligence.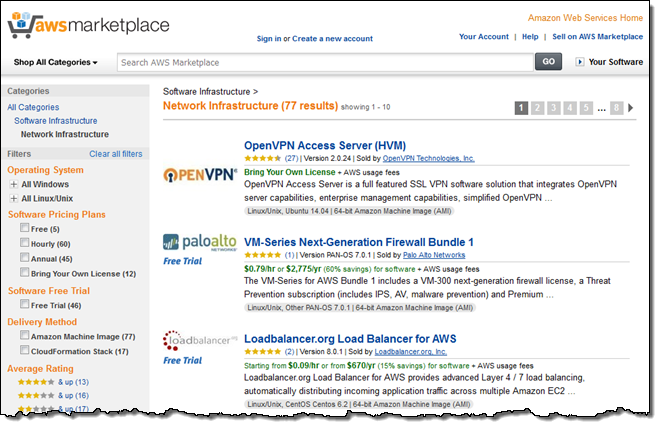 These products are available under several different pricing plans including free, hourly, monthly, and annual. For companies that already own applicable licenses for the desired products, a BYOL (Bring Your Own License) option is also available.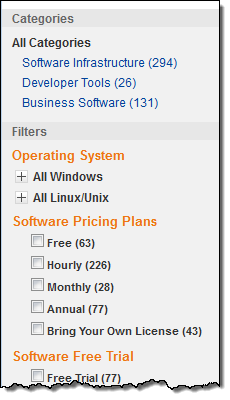 As I write this, more than 150 products are available for free trials in the Asia Pacific (Seoul) Region!

Several Korean ISVs have already listed their products on AWS Marketplace. Here's a sampling:

ISV Opportunities
If you are a software vendor or developer and would like to list your products in AWS Marketplace, please take a look at the Sell on AWS Marketplace information. Customers will be able to launch your products in minutes and pay for it as part of the regular AWS billing system. As a vendor of products that are available in AWS Marketplace, you will be able to discover new customers and benefit from a shorter sales cycle.

— Jeff;
Comments? Questions? Talk to us