AWS Solutions Catalog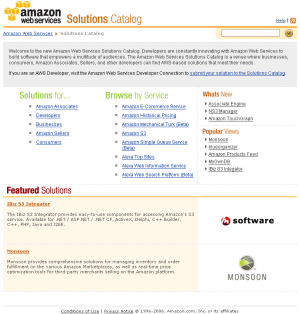 The AWS Solutions Catalog is the place to go to find AWS-based solutions of all shapes and sizes.
The catalog is organized both by audience — with sections for Amazon Associates, Developers, Businesses, Amazon Sellers, and Consumers — and by service, with one section for each of the eight Amazon Web Services. Each section has its own RSS feed, so it will be easy for you to stay abreast of the solutions in the areas of interest to you. We also show you the newest and the most popular solutions. If that's not enough, you can review and rate each solution (would you expect anything less from us?).
Adding new entries to the catalog is really easy. Starting from the Developer Connection, you can log in, click on the top-right link labeled "Your Developer Connection," and then click on "Submit New AWS Solution." You can also go directly to the submission page, but you'll have to log in before submitting your information.
We look forward to seeing your solution in the catalog — submit it today.
— Jeff;