Binpress Programming Contest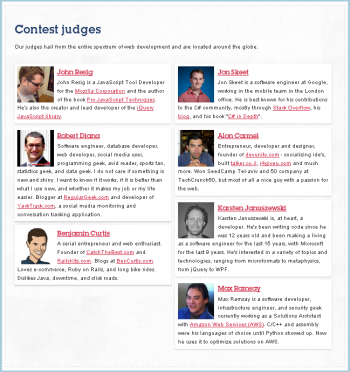 Amazon Web Services has teamed up with Binpress, a marketplace where developers buy and sell source code from one another, to sponsor a developer contest for the most useful source-code packages.
The line-up for prizes is enticing a mix of cash and other awards with a total value of $40,000. AWS is offering $3,500 in AWS credits to the grand winner, $2,000 to the runner-up, and $1,000 to the 3rd place. Category winners for each programming language in the contest (PHP, Ruby, Javascript, Java, ASP.net, Python) each get $500 in AWS credits.
A panel of high-profile judges will review each entry and select the winners. AWS Solution Architect Max Ramsay will be evaluating Java and Python code as part of the contest.
The contest runs until the February 24, 2011. Read the rules and join the contest.
— Jeff;