BookQueueToo
Byrne Reese has released BookQueueToo, a book list management plugin for Movable Type. Features include: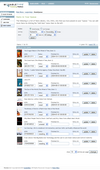 Ability to track books, DVDs, CDs, and much, much more.
User interface updated to be consistent with MT look and feel.
Search Amazon from within BookQueueToo to find the book you wish to add to your queue.
Access your BookQueue more easily by following the link now found on your blog's homepage.
Available now; download the tar file from the BookQueueToo page.