Effective Renewable Energy Policies Spur Investment and Economic Growth
Today we have a very special guest post. My colleague Shannon Kellogg is a senior member of our Public Policy team. He has an interesting perspective on the role of public policies for renewable energy, with a focus on how they affect investment and economic growth.
— Jeff;
---
In late September, I traveled to Virginia's Eastern Shore to join Governor Terry McAuliffe and other state and local officials for his announcement of the Commonwealth's issuance of its first permit for a new 80 megawatt solar facility that will be constructed in Accomack County. Amazon Web Services (AWS) has partnered with Community Energy to build the new installation — Amazon Solar Farm US East — and the project is expected to more than quadruple the amount of solar energy currently installed in Virginia. In his announcement, Governor McAuliffe said: "The partnership between Community Energy and Amazon Web Services, which will result in the largest solar facility in the mid-Atlantic, is indicative of the types of opportunities that my Administration is working toward through our commitment to build a new Virginia economy."
We are excited about the positive impact that Amazon Solar Farm US East can have on the local economy in Virginia as our company continues to push for more renewable energy sources nationwide. To date, we have made significant progress toward advancing renewable energy by teaming up with developers in Indiana and North Carolina to announce new wind farms in those states as well as the new solar installation on Virginia's Eastern Shore. These projects will deliver power to electrical grids that supply current and future AWS Cloud Computing data centers. Together these three projects will generate enough new renewable energy to power the equivalent of 122,000 US homes, or a city about the size of Pittsburgh, Pennsylvania. We expect that the contracts we have with developers for these three installations will allow AWS to meet or exceed its goal of using 40 percent renewable power in our data centers globally by the end of 2016. That will be a major step forward in meeting our long-term goal of 100 percent renewable power for our global infrastructure.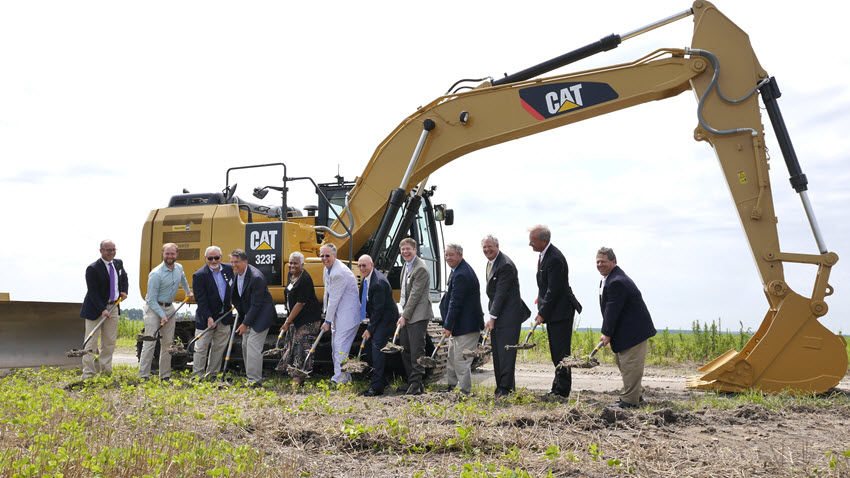 The ground-breaking ceremony for the Amazon Wind Farm US East in North Carolina, which included state and local government officials such as North Carolina Governor Pat McCrory.
When Amazon's solar and wind farms turn on that much clean power, over time the power grid will have a reduced reliance on the equivalent amount of fossil fuel generation somewhere else because it's no longer needed. We believe these investments help build the scale (and the business case) for solar and wind technology manufacturers to continue to innovate and continue to lower the costs of renewable power for everyone.
However, despite the progress that companies like Amazon are making toward the greater adoption of renewable energy sources, there is still quite a distance to go in the U.S. to make renewable energy sources widely available enough to keep up with growing demand by our industry and others. In August, The Economist stated that while in "some places wind turbines and solar cells are now a cheaper way of generating electricity than fossil fuels are," the publication also noted that "renewables, other than hydropower, still provide less than 3 percent of the world's energy."
That gets to the second point The Economist editorial staff made; despite more solar and wind power sources being available that are priced competitively with fossil fuels, the percentage of the world's energy in these categories is still very limited. It doesn't have to be that way. By putting in place thoughtful policy – to provide certainty to businesses working in the renewable energy sector and to level the playing field with other sources of energy – our industry can accelerate and expand investments in new renewable projects, which will diversify the US electrical energy generation mix. That's not only the right policy for businesses but it's the right policy for our long-term energy security.
As federal energy and tax reform bills are considered by the U.S. Congress, policymakers have an opportunity to achieve an "all-of-the-above" energy policy that includes oil, gas, and renewable energy by giving investors access to a corporate structure with a tax advantage that is currently only available for fossil fuel-based energy projects. Congress should enact the Master Limited Partnerships (MLP) Parity Act, a bi-partisan bill introduced this summer that would give investors in renewable energy projects the same tax benefits that investors in the fossil fuel energy industry have been enjoying for decades.
There are also other steps that federal and state policymakers can take right now to ensure that renewable energy sources will continue to be competitively priced with fossil fuels in the near-term while wind and solar prices continue to fluctuate. First, Congress should adopt the two-year extension (through 2016) of the Production Tax Credit (PTC) for wind that was included in the tax extenders bill introduced in the Senate earlier this year; second, the Investment Tax Credit (ITC) for solar should be extended beyond 2016 if possible. At minimum, a proposed "commence construction" provision for the ITC should be included in any federal tax extender package enacted this year. This proposed change to the ITC would adjust the federal tax credit to allow projects to qualify for the ITC if construction on the project begins prior to the statutory expiration of the existing ITC on December 31, 2016, rather than the current requirement that the project is "placed in service" by ITC expiration.
In states such as Virginia that aim to create more renewable energy jobs it is time to pursue more competitive property tax rates for large-scale renewable projects, while also considering other policies to foster the construction of renewable energy projects such as a state-level investment tax credit that could eventually help replace the federal ITC. For those states that want to continue to attract renewable energy investment and the corresponding job creation, it is important to have the right policies in place for long-term impact to achieve the economic benefits that Governor McAuliffe, Governor McCrory, and other state leaders are seeking.
Together, advancement of these policies at both the federal and state levels could provide the runway and visibility to bring about a more abundant renewable energy future. Amazon will continue to work hard to invest in more renewable projects as AWS continues its march toward our 100 percent renewable power goal for its global infrastructure footprint. And, we are committed to working with our business partners, government policymakers and other stakeholders to help make it happen.
— Shannon Kellogg, Director, AWS Public Policy
Modified 1/29/2021 – In an effort to ensure a great experience, expired links in this post have been updated or removed from the original post.