Fingad – Social Networking for Serious Investors Using EC2 and S3
As part of a trip to New York earlier this year, the folks at Strateer were kind enough to set up an informal meeting with some AWS users in the area.
Before lunch they pointed out a small conference room to me and told me that they had invited "a few local users." They wanted to make sure that I wouldn't be disappointed if just 2 or 3 folks showed up (I was fine). We returned from a very pleasant lunch to find the room jam-packed, with at least 15 people around the table!
For the next 90 minutes, they talked, and listened. I can't tell you how valuable and worthwhile it is to hear directly from our users what they like about AWS, what they are doing with it, and what they don't like about it. Amazon's customer-oriented culture attaches a lot of value to the "voice of the customer"; accordingly, I am happy to do my part to collect it and to bring it to the attention of the entire AWS team.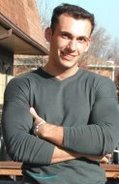 One attendee at that meeting was Khanan Grauer, founder of AWS-powered Fingad (pictured at right). He told me that they were using our services to host their site and that it had worked out really well for them.
Fingad allows serious traders to share and review their trading strategies with their peers. As Khanan told me, "our mission is to provide investors points of view from other investors. This has resulted in very interesting knowledge, which is very different from what the news media & business analysts produce."
Users create accounts and can then publish information about themselves in their profile. This particular user wrote a very interesting post about the current state of the oil futures market. There are a number of social networking features including photo albums and reviews.
Users can also create, share, and track their own virtual investment portfolios.
The site was built using Ruby on Rails and the Lighttpd web server, and runs on Amazon EC2. All images are stored in Amazon S3. As Khanan says, "This has resulted in faster response times and improvement for our users." They created a Master AMI and are able to scale with ease when traffic spikes.
— Jeff;