Flowser – Graphical Amazon Browser
Important Update: There seems to be some confusion about the creator of Flowser – I've seen a couple of blog posts which claimed that Amazon created it. In fact, a creative member of our developer community created it and he deserves all of the credit!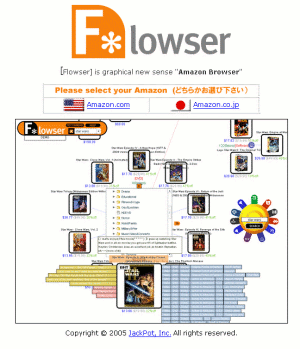 This past weekend I snuck a peak at the Programmable Web blog and found a reference to Flowser.
Available in English (Amazon.com) and Japanese (Amazon.jp), Flowser is a very creative catalog browser. The name is apparently derived from the fact that search results are displayed in a format reminiscent of some flower petals, with a central key surrounded by search results grouped by their Amazon catalog.
Starting from the individual products shown as the search results, it is easy to get additional product details or to navigate to all of the products in the same browse node. Access to similar products or to other products from the same publisher is also at-hand, and some cute sound effects add some flair to the product.
— Jeff;