Follow My AWS Road Trip
After four months of planning and over 500 emails, I am less than 48 hours away from the start of my 5,000 mile road trip!
I have created the AWS Road Trip site to give you the opportunity to follow my journey. I will be posting photos, videos, maps, and more as I make my way from Boston to Seattle, with Austin as the southern extreme and San Francisco to the west. The clever and generous folks at MapBox have created a very nice interactive map of my journey.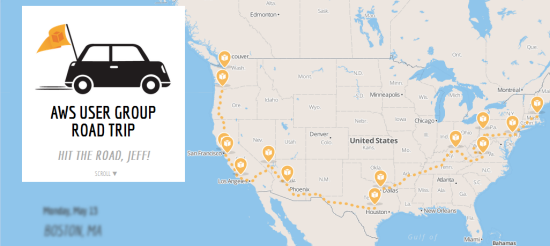 (Click on the map to visit the interactive version)
Of course, this map (and many other parts of my trip) are powered by AWS. To learn more about how EC2, CloudFront, S3, and the Simple Email Service work together to create beautiful maps, read Will White's post, How We Serve Faster Maps from MapBox.
The AWS Road Trip site is hosted in Amazon S3, with DNS provided by Route 53. Content is generated in Octopress and pushed to S3 using S3cmd (see the first post for more information). I will write more about my setup after I return from my trip.
Some of the user groups still have space available (again, see the first post for more information). If I am speaking in your city,sign up now in order to secure a spot for yourself. I have a fresh new presentation, hundreds of AWS T-shirts, some stickers, and some other goodies to distribute.
As much as I would like to, I won't have time for any other meetings along the way. If you'd like to meet me in person, plan on coming to the user group in your city. I hope to see you there!
— Jeff;
Modified 2/1/2021 – In an effort to ensure a great experience, expired links in this post have been updated or removed from the original post.