Jobs at AWS – The Complete List
The AWS team is growing by leaps and bounds. Existing teams are expanding, new teams are being formed, and we're pushing into new territories.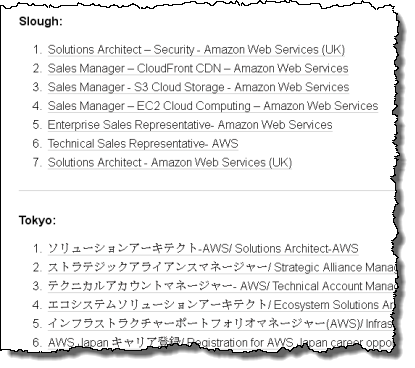 There are so many jobs that our official job site can be a bit difficult to navigate. To make it easier to find the job that is right for you, I have pulled all of the jobs together on the new AWS Jobs Page.
As you can see, we are hiring in Australia, Germany (Berlin and Munich), South Africa (Cape Town), Ireland (Dublin), the United States (Herndon, Virginia; Seattle, Washington; New York, New York), India, Luxembourg, France (Paris), Singapore, the UK (Slough), and Tokyo.
We have a very wide variety of business and technical positions open. We need developers, development managers, solution architects, technical support engineers, product managers, enterprise sales representatives, data center techs, writers and more. We are hiring at all levels, up to and including Director.
— Jeff;