New Release of Associate-O-Matic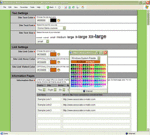 Version 2.5 of the Associate-O-Matic store builder is now available. The new release features enhanced control of the home page (more formats including single item and browse node, additional tabs), direct support for mod_rewrite to aid in search engine optimization, reporting, and improved caching.
Two versions of Associate-O-Matic are available. The full version lists for $99 and can be used for one or more sites. The lite version is free, with the proviso that 10% of the click traffic is sent to the Associate-O-Matic account.