Now Available: Windows Server 2008 R2 on Amazon EC2
Today we are adding new options for our customers running Windows and SQL Server environments on Amazon EC2. In addition to running Windows Server 2003 and 2008, you can now run now run Windows Server 2008 R2. Sharing the kernel with Windows 7, this release of Windows includes additional Active Directory features, support for version 7.5 of IIS, new management tools, reduced boot time, and enhanced I/O performance. We are also adding support for SQL Server 2008 R2 and we are introducing Reserved Instances for SQL Server.
You can now launch instances of Windows Server 2008 R2 in four different flavors:
Core – A scaled-down version of Windows Server, with the minimum set of server roles.
Base – A basic installation of Windows Server 2008 R2.
Base with IIS and SQL Server Express – A starting point for Windows developers.
SQL Server Standard 2008 R2 – A starting point for Windows developers.
Here are the details:
All of these AMIs are available for immediate use in every Region and on most 64-bit instance types, excluding the t1.micro and Cluster Compute families.
We plan to add support for running Windows Server 2008 R2 in the Amazon Virtual Private Cloud (VPC).
The AMIs support English, Italian, French, Spanish, German, Traditional Chinese, Korean, and Japanese. The languages are supported only within the applicable regions — European languages in the EU and Asian languages in Singapore and Tokyo.
Windows Server 2008 R2 is available at the same price as previous versions of Windows on EC2. Reserved Instances and Spot Instances are also available.
Update: You can use the AWS VM Import feature to bring existing virtual machines to EC2. VM Import has been updated and now supports the 64-bit Standard, Datacenter, and Enterprise editions of Windows Server 2008 R2.
To get started, you can visit the Windows section of the AMI catalog or select "Windows 2008 R2" in the Quick Start menu when you launch a new instance. Microsoft has also posted additional Amazon Machine Images with Windows 2008 R2 in the Windows section of the AMI Catalog.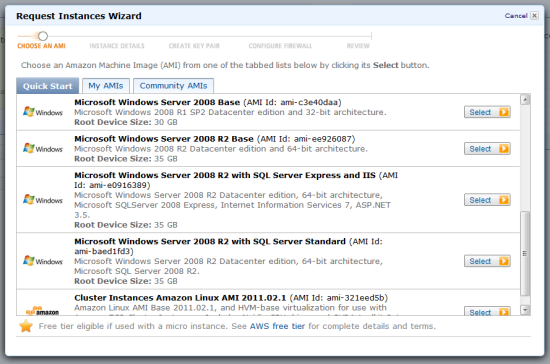 I look forward to hearing from you as you put Windows 2008 R2 to use. Leave a comment or send email to awseditor@amazon.com.
— Jeff;
Modified 2/11/2021 – In an effort to ensure a great experience, expired links in this post have been updated or removed from the original post.