Amazon Redshift Free Trial and Price Reductions in Asia Pacific
When Amazon Redshift first launched, I discussed its disruptive price, performance, and ease of use. One year later, we added faster and more cost-effective SSD-based nodes to the Redshift arsenal. The pace of Redshift innovation has only quickened, with over 60 new features added since launch, 12 of which I showcased last month.
Today, I'm happy to let you know you can now try Amazon Redshift's SSD node for free for two months. You can also take advantage of Redshift's rich partner ecosystem to help you get started. A number of Business Intelligence and Data Integration partners are also offering free trials to help you ingest and report on your data in Amazon Redshift. Last, but certainly not least, Amazon Redshift's disruptive prices just got better. Three year Reserved Instance prices in APAC are now over 25% lower.
Two Month Free Trial
If you are new to Amazon Redshift, you get 750 free hours for each of two months to try the dw2.large node, enough hours to continuously run one node with 160GB of compressed SSD storage. You can also build clusters with multiple dw2.large nodes to test larger data sets, which will consume your free hours more quickly. Each month's 750 free hours are shared across all running dw2.large nodes in all regions.
To start your free trial, go to the AWS Redshift Console, launch a cluster, and select dw2.large for the Node Type: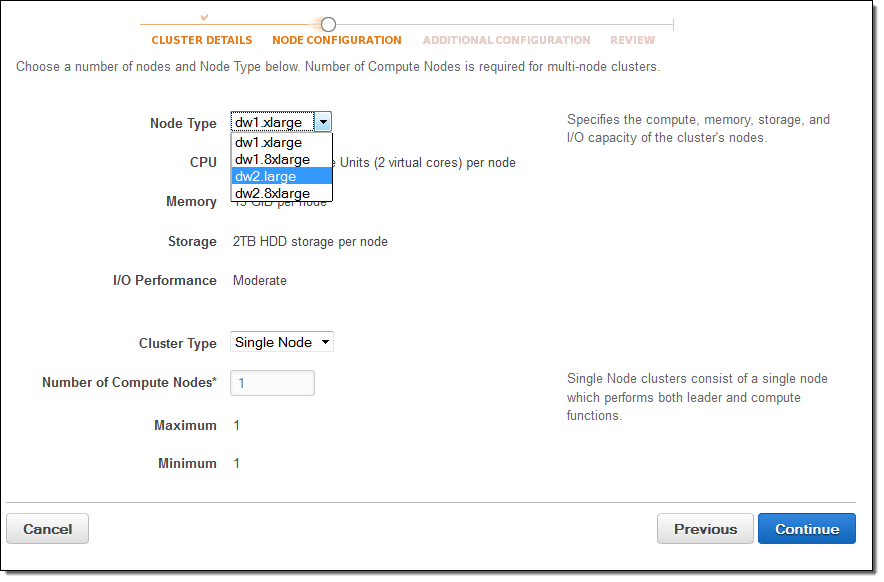 You will use trial hours as long as your cluster is running. To stop using trial hours, delete your cluster and create a snapshot to restore later: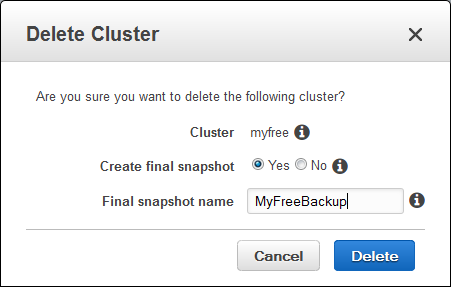 Any free hours that remain unused at the end of each month will expire. Once your two-month free trial ends or your usage exceeds 750 hours per month, you can shut down your cluster, avoiding any charges, or keep it running at our standard On-Demand Rate.
You can launch your two-month free trial right now and experience first-hand the features that have made Amazon Redshift such a big hit. You can see what this columnar, massively parallel processing, clustered data warehouse is all about!
Free Trials From Partners
To help you to start loading and analyzing your data, a number of Business Intelligence and Data Integration partners have launched free trials of their own. Below is a list of partners and links to their trial offers. You can also review the Redshift Getting Started Guides for help on loading data, tuning queries, and connecting your BI tools, or explore comprehensive documentation in our Developer Guide and Management Guide. As you familiarize yourself with Amazon Redshift, please feel free to ask questions on the Redshift Forum.
Free Trials from Business Intelligence Partners
Free Trials from Data Integration Partners
Price Reductions in Asia Pacific
If you are interested in running a data warehouse in the Asia Pacific are, you will be happy to hear that prices are coming down. We have reduced the three year Reserved Instance prices in Japan, Singapore, and Sydney for Amazon Redshift by over 25%.
You can now purchase a three year reserved dw1.8xl instance in Japan for $30,000 upfront and $1.326 per hour, down 28% from $30,400 upfront and $2.288 hourly. A three-year reserved dw1.8xl instance in Singapore and Sydney now costs $32,000 upfront and $1.462 per hour, down 26% from $32,000 upfront and $2.40 hourly. The dw1.xl instance price has also decreased and continues to be one eighth the cost of dw1.8xl. See the Redshift Pricing Page for more details.
— Jeff;