re:Invent 2020 Liveblog: Infrastructure Keynote
Thanks for joining us for the AWS re:Invent Infrastructure Keynote with Peter DeSantis, senior vice president of AWS Global Infrastructure and Customer Support which took place Thursday, Dec. 10. AWS Chief Evangelist Jeff Barr and Developer Advocates Martin Beeby and Steve Roberts followed all the action and you can read their recap below.
---
Steve Roberts 9:30 AM
So that's a wrap for the 2020 Infrastructure keynote. Thanks for joining us, and we hope you can join us for our final liveblog of re:Invent 2020, Werner's keynote on Tuesday, December 15th!
Martin Beeby 9:23 AM
I mean, NextRoll seeing 50% total cost savings over their previous generation EC2 instances, Graviton2 has to be worth a look.
Steve Roberts 9:22 AM
My favorite parts? The discussion on chip design (makes me want to go and get my hardware design manual from college) and the sustainability updates.
Martin Beeby 9:19 AM
Yeah was cool to see those Graviton2 benchmarks. I am seeing a lot of customer enthusiasm around ARM chips.
Steve Roberts 9:19 AM
Yeah, I enjoyed that a lot. Hope everyone else did too!
Jeff Barr 9:18 AM
Wow, such an interesting keynote. I learned a lot about how we locate and power our data centers, design chips, produce renewable energy, consume concrete, and minimize water usage.
Steve Roberts 9:17 AM
I just discovered you can read more on our sustainability efforts here.
Martin Beeby 9:16 AM
Even on our biggest datacenters, we use about the same amount of water as 25 US households. We reuse 96% of our wastewater. We are watching a video now showing how AWS is returning that water to the farming community.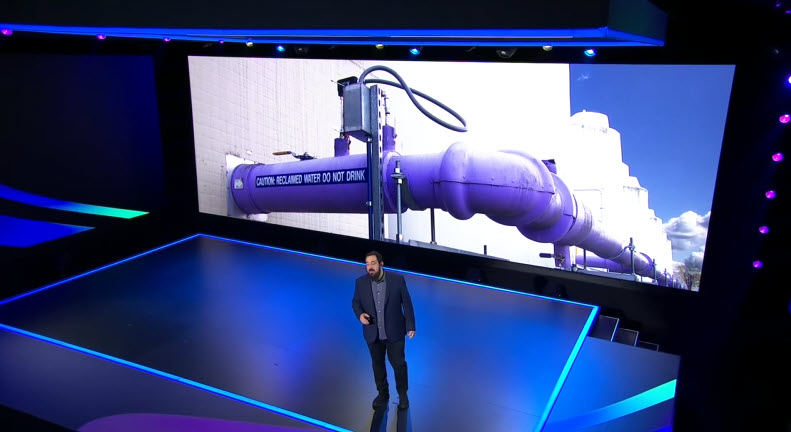 Jeff Barr 9:15 AM
Ok, so this water runs through a cloud DC, is routed into a canal, irrigates crops, some evaporates, and becomes — Cloud!!
Jeff Barr 9:14 AM
Turns out that we have an AWS Water Team….
Steve Roberts 9:12 AM
I have a book on the construction of the Golden Gate bridge; learning we now use less concrete to build our DCs than was used in the bridge amazes me.
Martin Beeby 9:12 AM
AWS is on a path to running 100% on renewable energy by 2025—five years ahead of our original target of 2030.
Jeff Barr 9:10 AM
From the abstract to the very very concrete!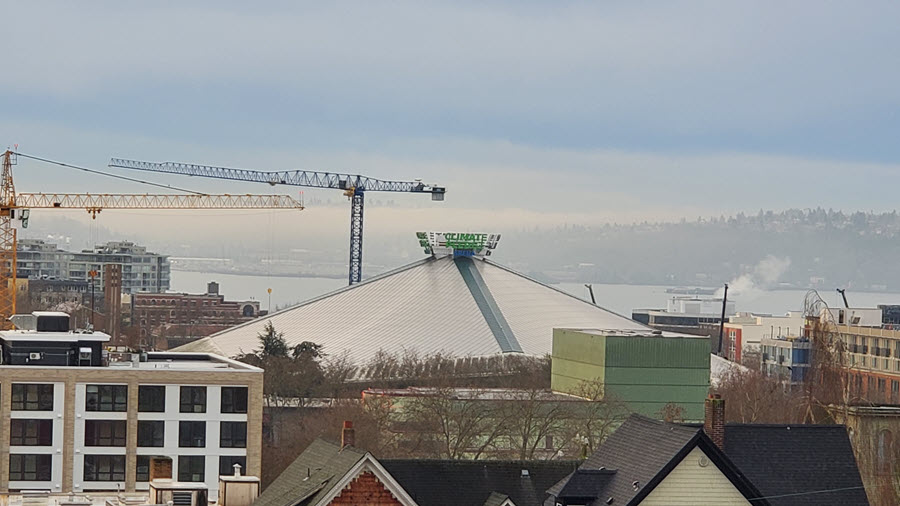 Jeff Barr 9:08 AM
Did he say 1.21 Gigawatts? Nope, 3.4 Gigawatts!
Jeff Barr 9:07 AM
All of these innovations result in AWS DCs that are far more energy efficient than the usual Enterprise DC: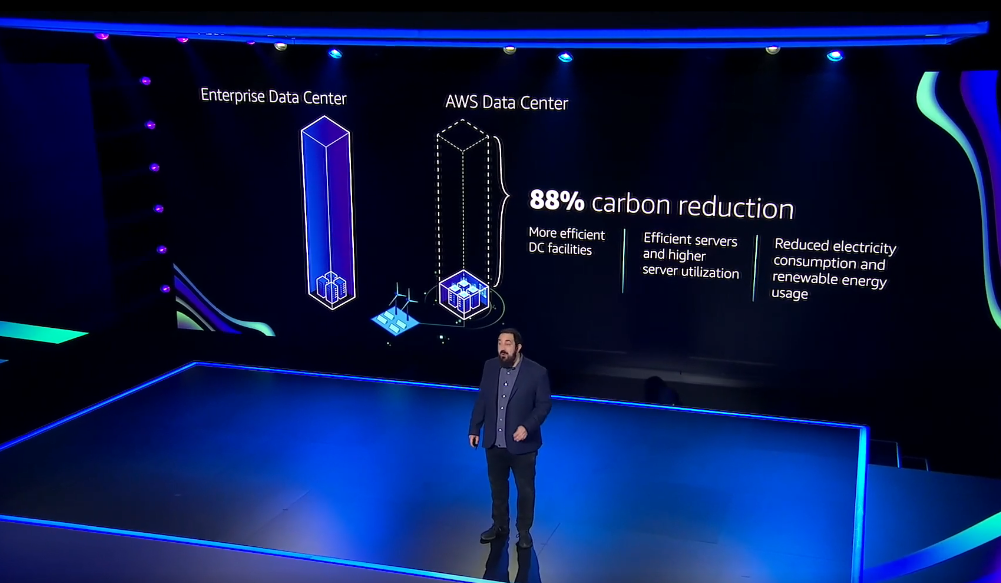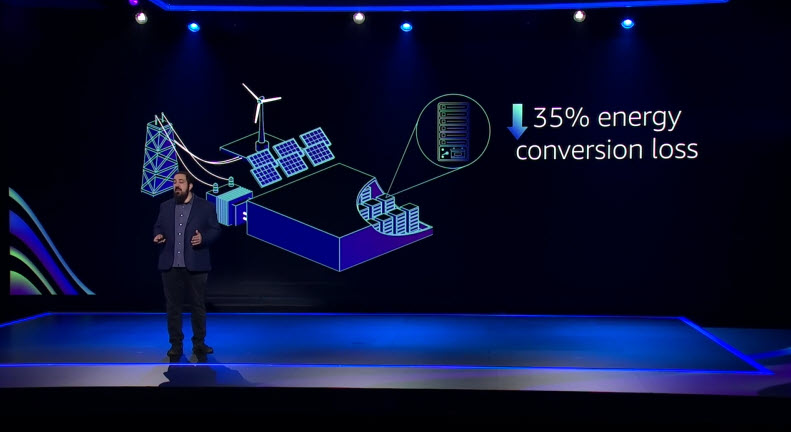 Steve Roberts 9:07 AM
Peter's referring back now to the earlier discussion on UPS and data center power, and the changes there save 35% lost energy in power conversion.
Martin Beeby 9:05 AM
We are now back to Peter and he is giving us an update about sustainability.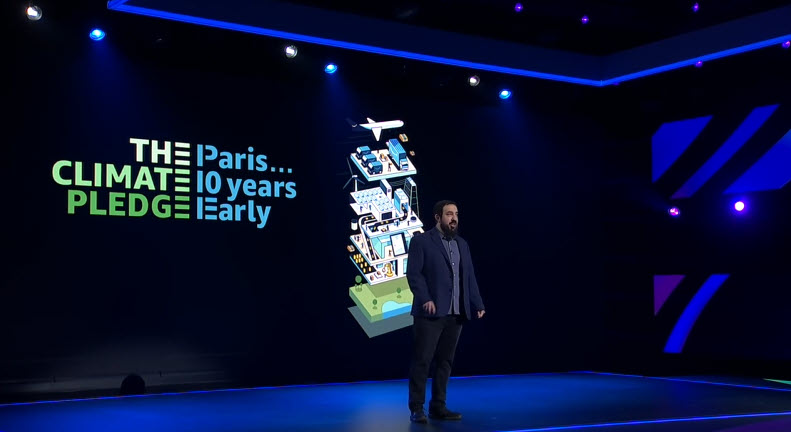 Steve Roberts 9:05 AM
"The greenest energy is the energy we don't use."
Jeff Barr 9:04 AM
The sign just went up on the Climate Pledge Arena last week. It is literally in my backyard.
Martin Beeby 9:03 AM
Snap is on a path to profitability and would never be able to do that if they had to build their own data centers according to Jerry.
Jeff Barr 9:02 AM
That pesky speed of light comes in to play again!
Martin Beeby 9:01 AM
Jerry Hunter from Snap says that with minimal code changes, they were able to switch to Graviton-2 instances. Roll it out, and immediately enjoy cost savings.
Martin Beeby 9:00 AM
Benchmarks are nice, but our customers are also reporting real benefits from Graviton2 based instances. Snap saw 40% better price performance.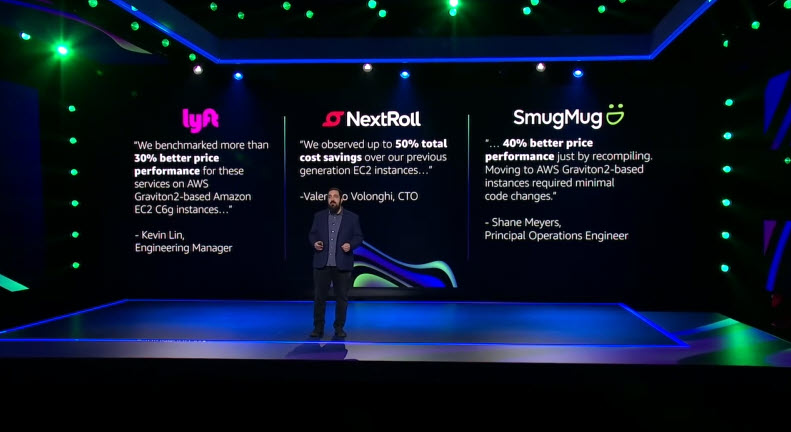 Jeff Barr 8:58 AM
Sounds like we are getting ready to talk about sustainability and renewable power….
Martin Beeby 8:56 AM
Via video, we are joined by Jerry Hunter, SVP Engineering, Snap Inc.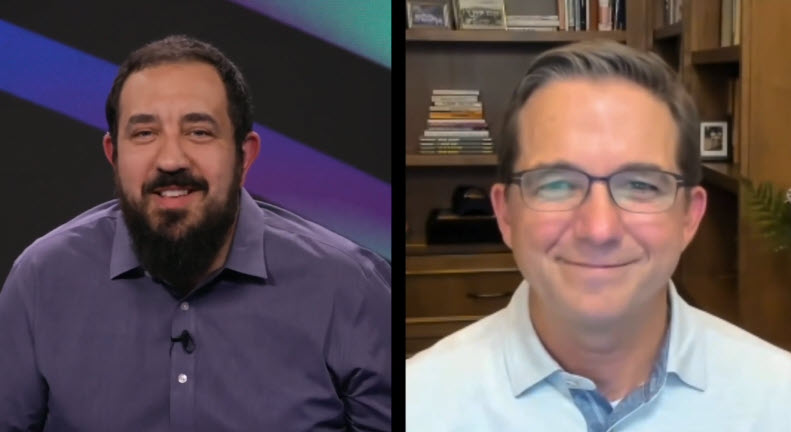 Steve Roberts 8:56 AM
"The benchmarks that really matter….customer workloads". I like that.
Jeff Barr 8:55 AM
Peter points out that scaling down to just one core is as important as scaling up to tens of cores.
Martin Beeby 8:54 AM
Graviton 2 doesn't just work well on frontend workloads; it's also good with IO-intensive workloads. Peter is demonstrating this by showing the results from a Postgres TPC HammerDB benchmark.
Jeff Barr 8:51 AM
Each core can execute faster and with less variability.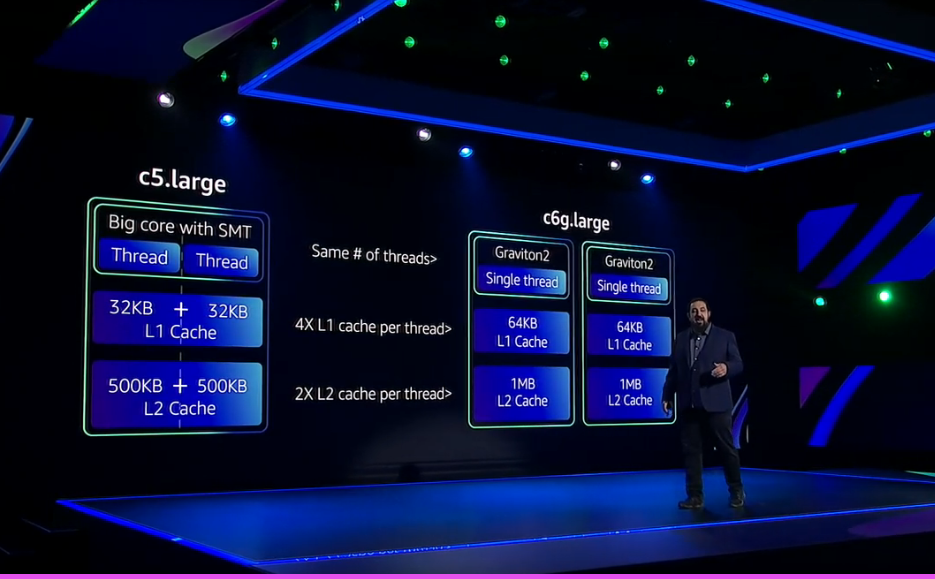 Steve Roberts 8:50 AM
While we're on the subject of chips, the new G4ad instances with AMD GPUs I wrote about here became available yesterday.
Jeff Barr 8:48 AM
SMT was an effort to keep cores busy at all times, but introduces performance variability and security concerns.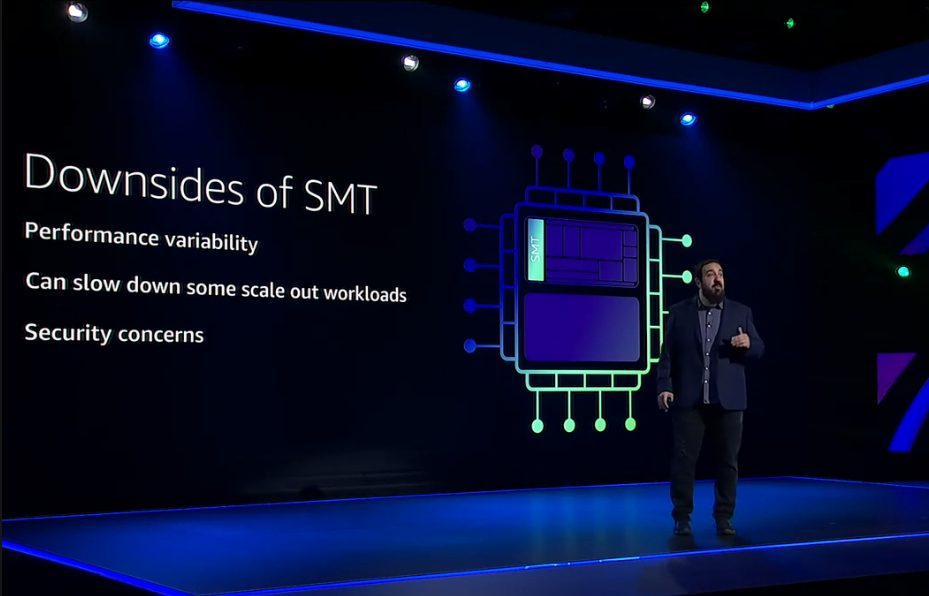 Jeff Barr 8:46 AM
Graviton reflects an in-depth understanding of today's scale-out workloads — microservices, serverless, and so forth.
Martin Beeby 8:46 AM
Ahhh it comes from physics, Jeff. I thought it was from Marvel or DC.
Jeff Barr 8:44 AM
Graviton is a very cool brand name but I suspect that quantum physicists are confused that this once obscure term is becoming more common by the day!
Steve Roberts 8:42 AM
My colleague Kirk Davis recently published a blog post about the performance and cost savings he found when running .NET 5 applications on Graviton2. Check it out.
Jeff Barr 8:42 AM
One of the powerful aspects of cloud-based infra is that customers can access and put it to use so quickly; no need to wait for a DC hardware refresh.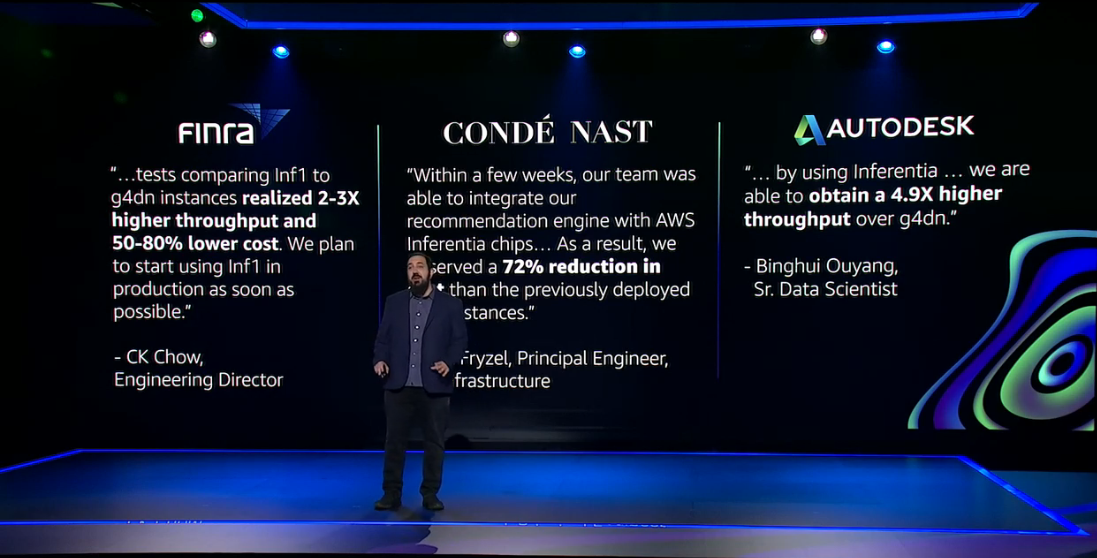 Martin Beeby 8:40 AM
C6gn is using the latest version of the Nitro chips. Danilo dived deep into this on the news blog last week.
Steve Roberts 8:39 AM
I'm now looking at all the spare hardware in my room, wondering how I can get my hands on some Nitro cards….!
Jeff Barr 8:39 AM
The Nitro chips are evolving quicky; the newest version powers the new C6gn instances.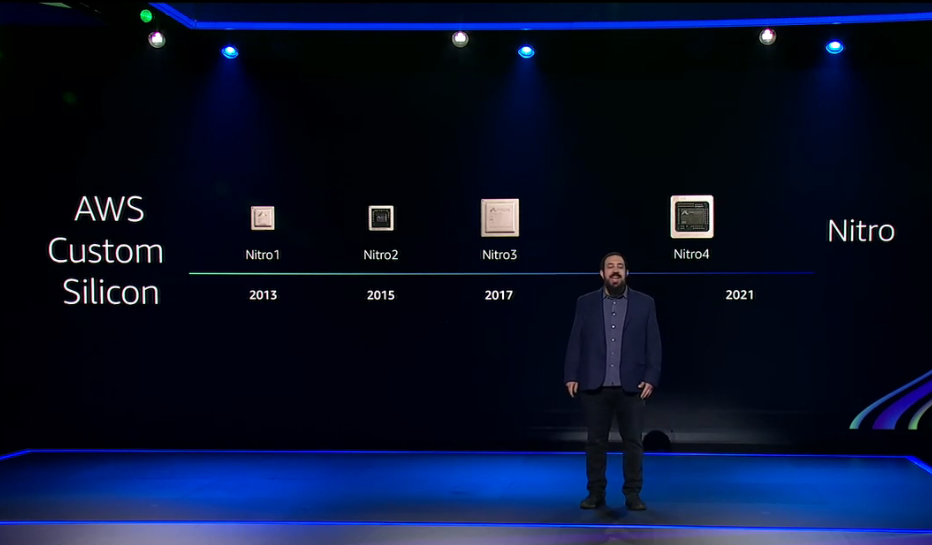 Jeff Barr 8:38 AM
"That Mac Mini can now use any native AWS service." — this is very cool.
Jeff Barr 8:37 AM
"How do you make a Mac into an EC2 instance?"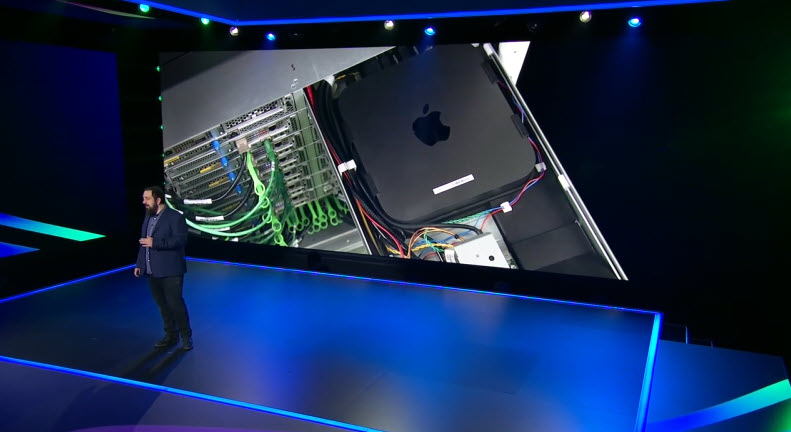 Steve Roberts 8:37 AM
Did I just hear that adding Nitro to any server turns it into an EC2 instance? I guess I did – that's cool!
Martin Beeby 8:35 AM
We are now back with Peter talking about AWS Custom Silicon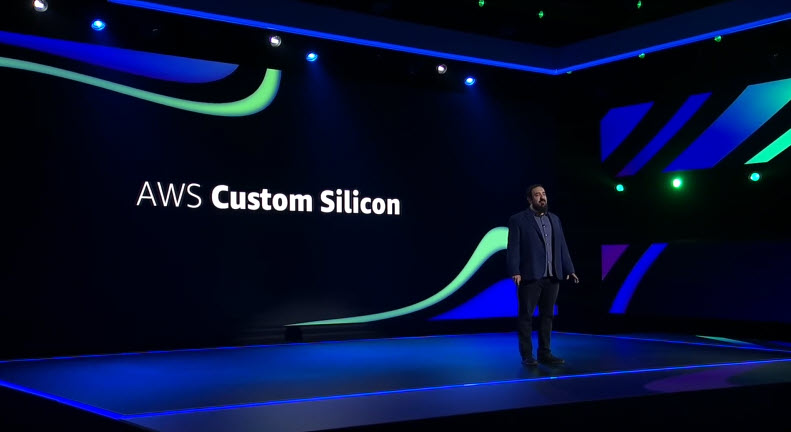 Jeff Barr 8:35 AM
Ok, let's get into the chips!
Martin Beeby 8:35 AM
Amazon EC2, AWS Direct Connect, and AWS Sheild Advanced all used to provide a resilient backbone. Across multiple AZs and with a second region for resiliency.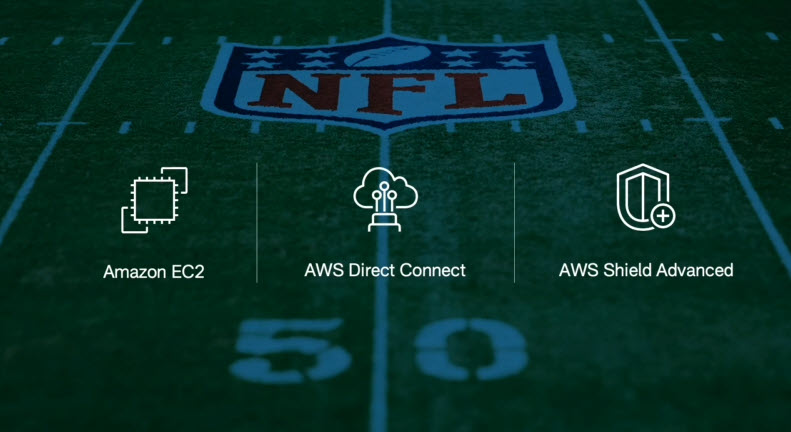 Jeff Barr 8:33 AM
Being resilient while you are live is not for the faint of heart.
Steve Roberts 8:33 AM
"It's one thing to be resilient in your day to day operations. It's another when you're live."
Martin Beeby 8:32 AM
Over 100m dollars raised on their Draft-a-thon platform.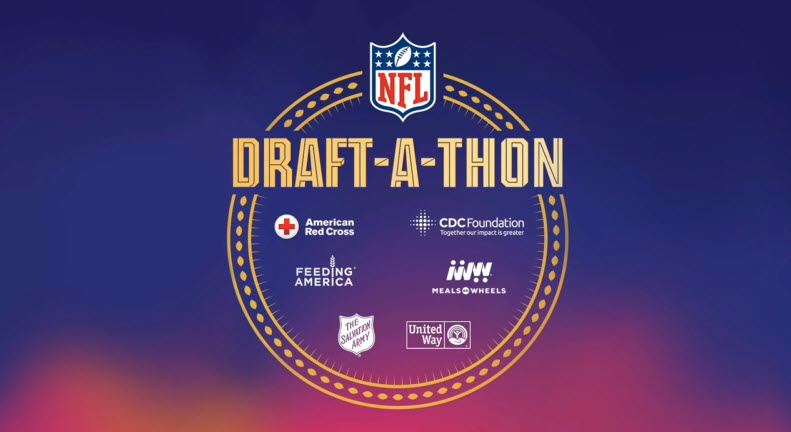 Jeff Barr 8:31 AM
Mobile phones, lighting, tripods, microphones — I'm surrounded by several of each.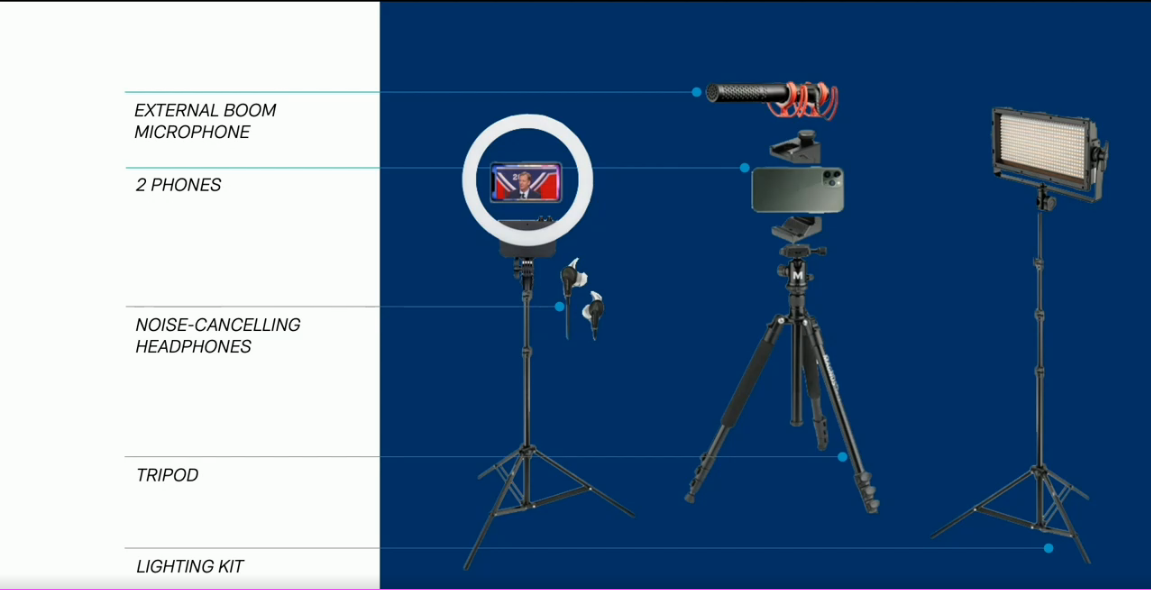 Martin Beeby 8:30 AM
Michelle discusses how the traditional satellite broadcasting system that the NFL uses would not work and that they would need to broadcast over the internet. ESPN and AWS put their heads together to figure it out.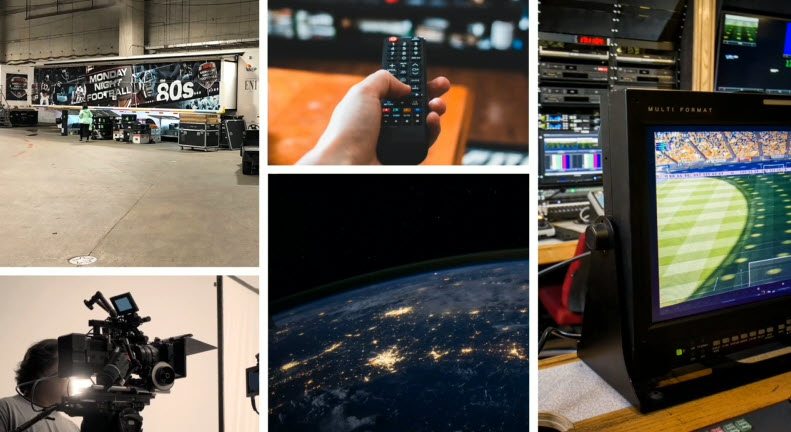 Jeff Barr 8:30 AM
Michelle is telling us how they reached out to AWS to support their annual announcement of new draft picks. They formerly used studios, satellites, and trucks full of equipment.
Martin Beeby 8:28 AM
What a great site Steve. Peter talked about the different regions we have launched recently and mentioned the announcement that we will have a new Region in Australia soon. Jeff discussed this on the blog a few days ago.
Steve Roberts 8:27 AM
And, since we've just concluded talking about the AWS Region and Availability Zone architecture, now's a good time to remind you that you can explore more, interactively, at https://www.infrastructure.aws/. One of my favorite pages!
Martin Beeby 8:26 AM
We now have Michelle McKenna CIO, NFL joining us via video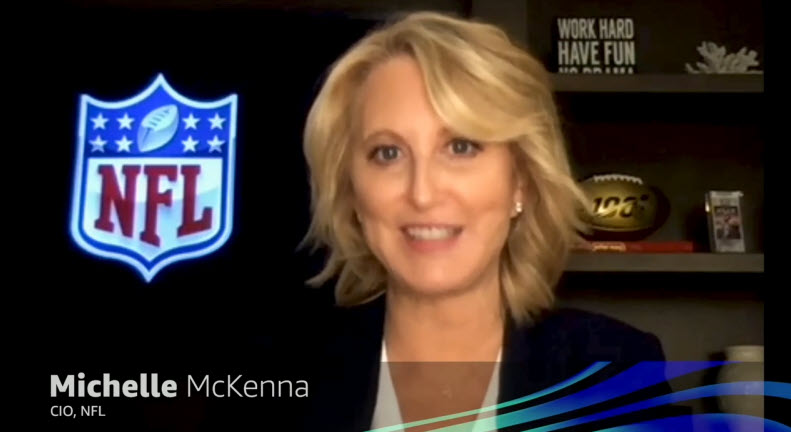 Jeff Barr 8:26 AM
Supply chains are essential. During the pandemic, the global diversity we have established was critical.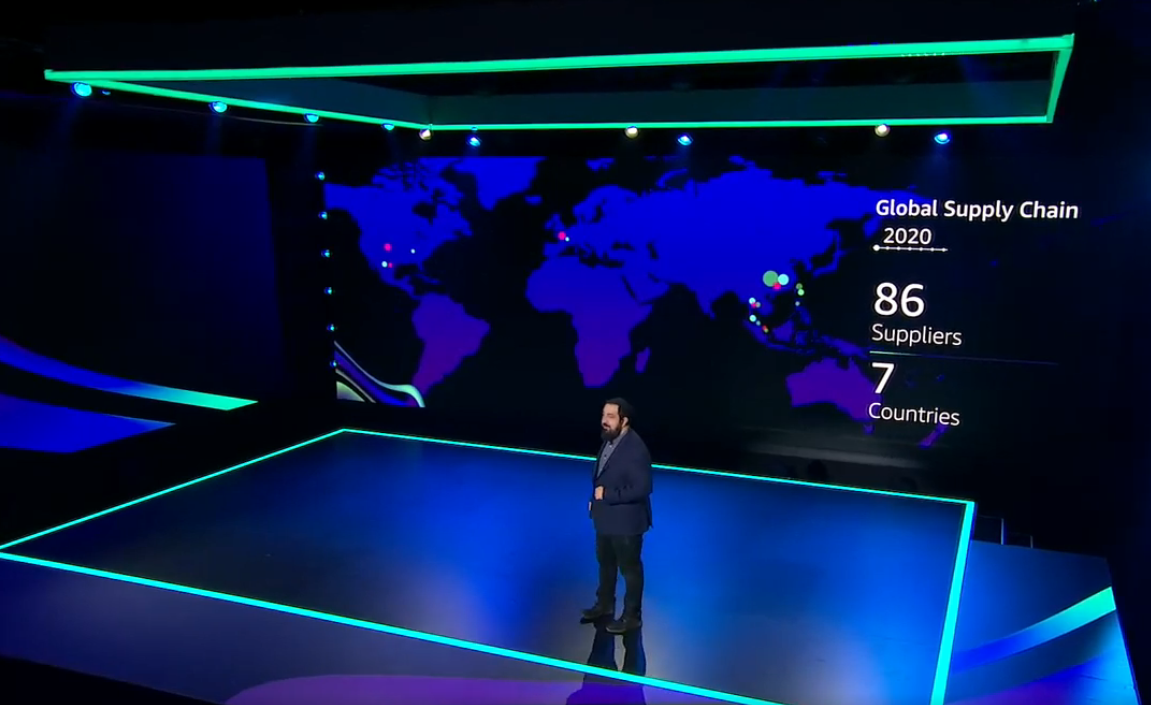 Steve Roberts 8:24 AM
"Great availability is not just about keeping everything running."
Jeff Barr 8:21 AM
Peter is digging in to the fine print that each cloud provider uses to describe AZs and Regions.
Steve Roberts 8:21 AM
"Usually" and "Generally" are statements that are just not good enough.
Martin Beeby 8:20 AM
Amazon is a highly stateful real-time application that needs to keep complete inventory information up-to-date and consistent while all the users are accessing the website, when you're trying to keep data that changes this rapidly synchronized with either strong or eventual consistency, latency matters! Peter is now talking about Latency and the impact it can have on your system and how it impacts the decision on where to place data centers.
Steve Roberts 8:20 AM
Let's be honest, we worry about pretty much everything….
Jeff Barr 8:20 AM
We also worry about dinosaurs coming back from the dead and attacking our AZs.
Steve Roberts 8:19 AM
"The speed of light is a pesky little thing."
Jeff Barr 8:18 AM
Tornadoes, or asteroids…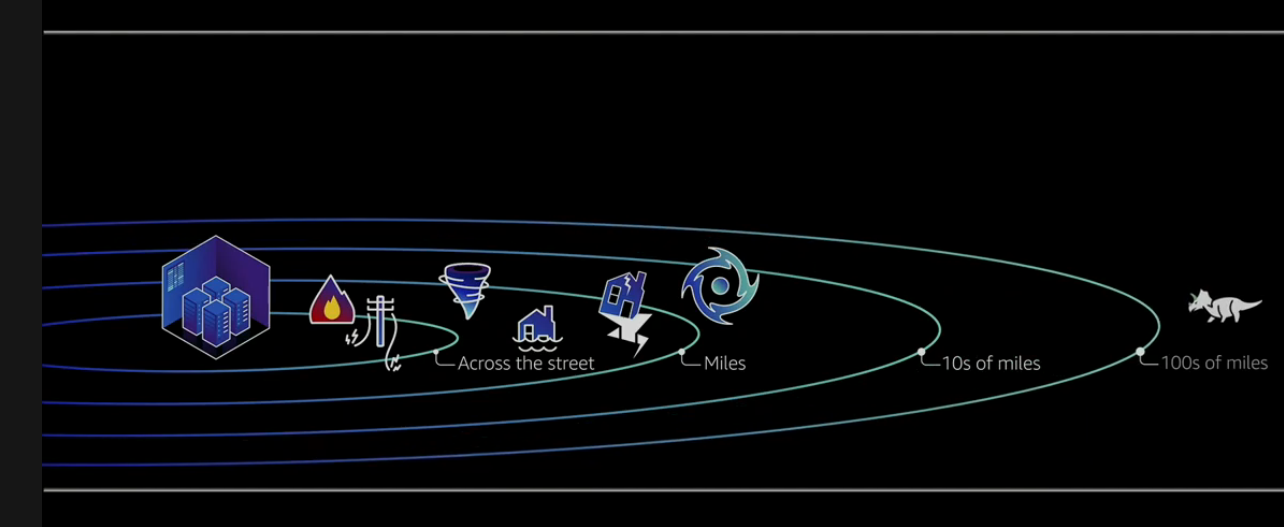 Steve Roberts 8:16 AM
Now Peter is discussing why we architect with multiple availability zones. No single server, or data center, is immune from failure.
Jeff Barr 8:16 AM
Oh yeah, when we launched EC2 we did not have the concept of Availability Zones.
Martin Beeby 8:15 AM
Wow! A single Mega Watt USP weighs 12,000 pounds and has to be stored in a separate dedicated room because they have special environmental requirements. And here was me thinking my travel laptop power pack was impressive.
Jeff Barr 8:15 AM
"We know everything about it, and we control all of the pieces of the software." — Mini-UPSes in individual DC racks.
Steve Roberts 8:13 AM
If I was responsible for any of this equipment, regardless of blast radius potential, I think I'd be firmly in the insomnia category. Kudos to the engineers and operators!
Jeff Barr 8:11 AM
I hope that UPS picture is not life-sized!
Steve Roberts 8:11 AM
3rd party embedded software can be slow to fix, is generalized for multiple use cases, and can have different operational aspects that all lead to more complexity.
Jeff Barr 8:09 AM
"Software that you don't own, that is in your infrastructure, can cause problems."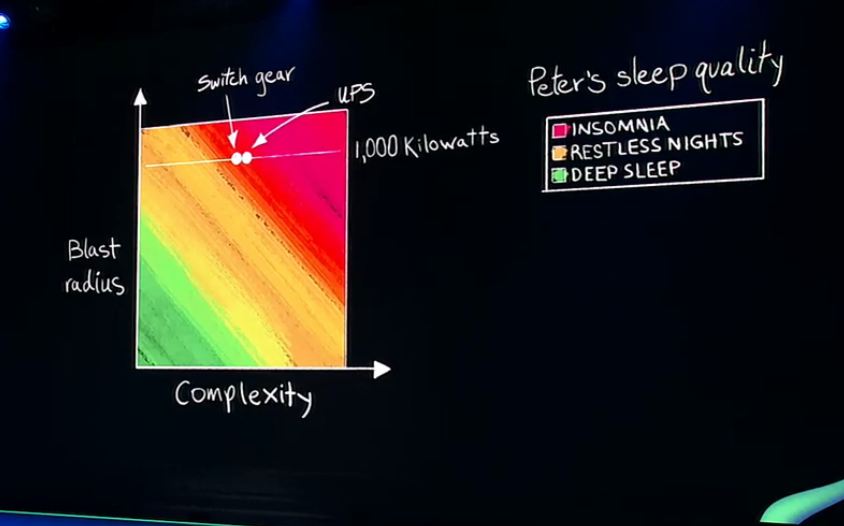 Jeff Barr 8:08 AM
"Concurrent maintainability with redundancy" is an important aspect of our design, but complexity is going to affect availability.
Jeff Barr 8:06 AM
"Generators sit idle most of the time."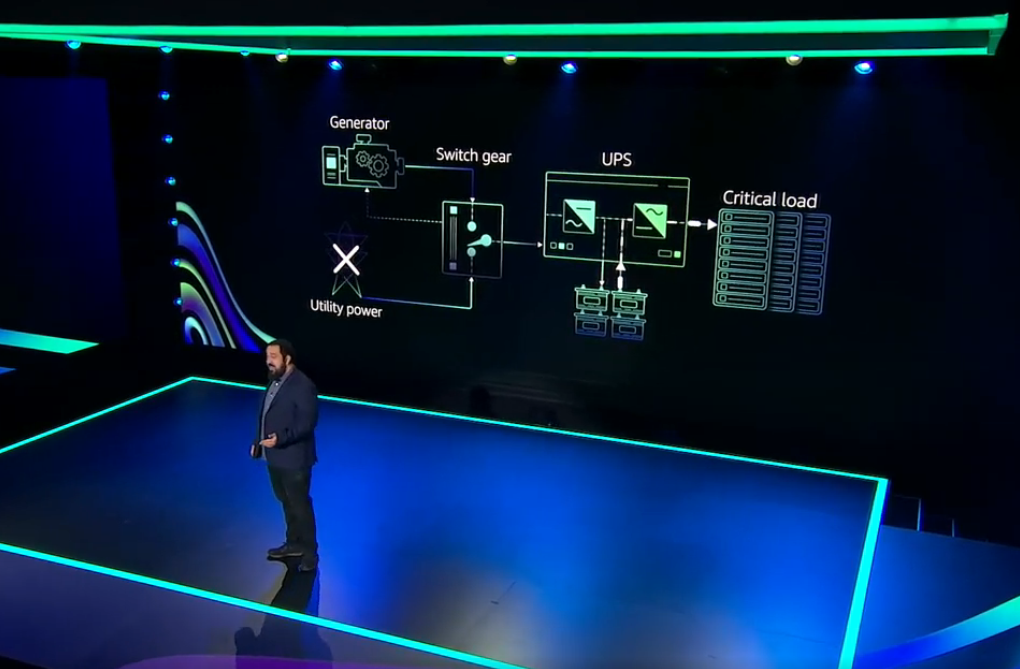 Martin Beeby 8:06 AM
"Now it's really interesting. The Clues are piling up; the perpetrator could be the most likable guy in the story."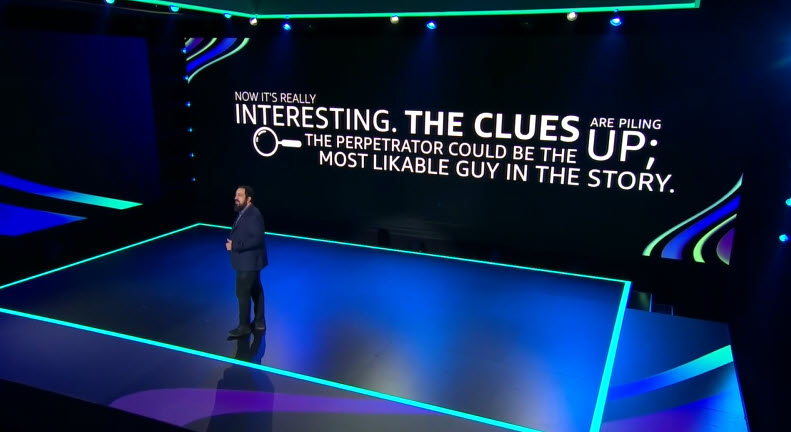 Jeff Barr 8:04 AM
Data center power infrastructure — he's Diving Deep right away!
Jeff Barr 8:04 AM
Peter is going to share some peculiar and quirky quotes!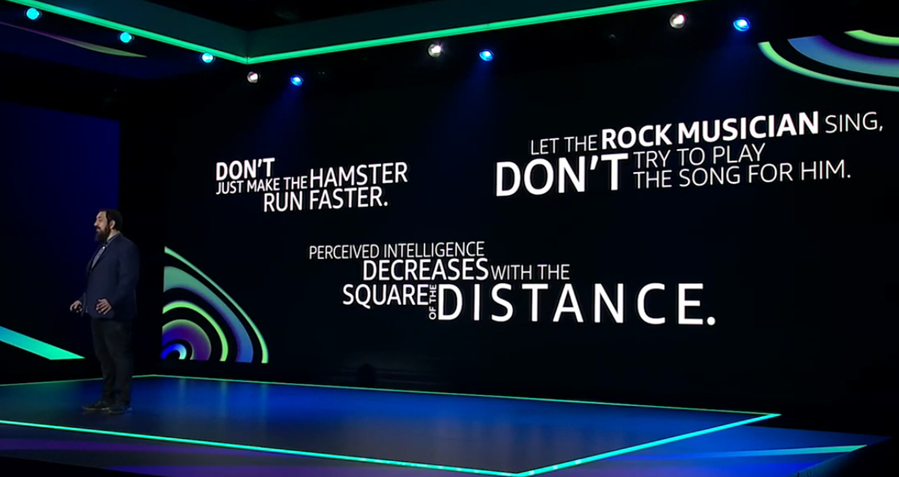 Martin Beeby 8:04 AM
Some great quotes on screen.
Jeff Barr 8:02 AM
This should be really interesting – Graviton 2, Sustainability, and customers!
Martin Beeby 8:01 AM
We now have Peter DeSantis, SVP, AWS Infrastructure & Support, walking out to the stage.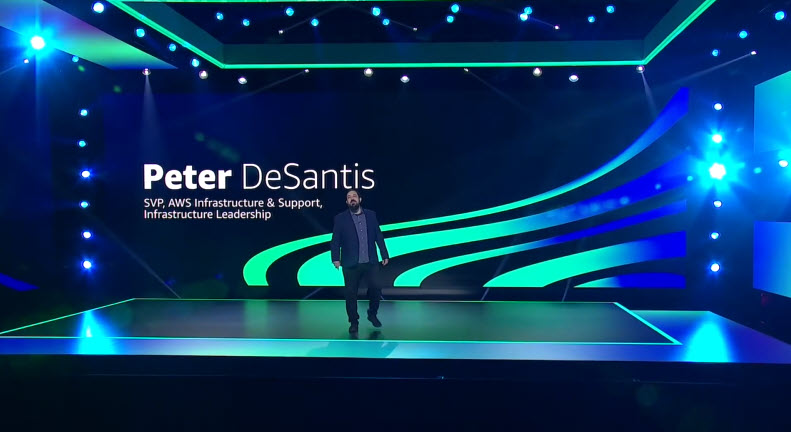 Jeff Barr 8:01 AM
So you are going for multi-AZ, Steve?
Steve Roberts 7:59 AM
Caffeinated beverage #1 done, #2 and #3 lined up…let's do this!
Martin Beeby 7:52 AM
I wonder if there is a separate The White Buffalo, hosted in another Region that we could switch to in case there was any failure with the chord progressions with this one.
Martin Beeby 7:41 AM
Two near-identical guitars on stage; I am assuming that is for resiliency. Nice to see that even the band are using multiple AZs and following AWS Well-Architected best practices.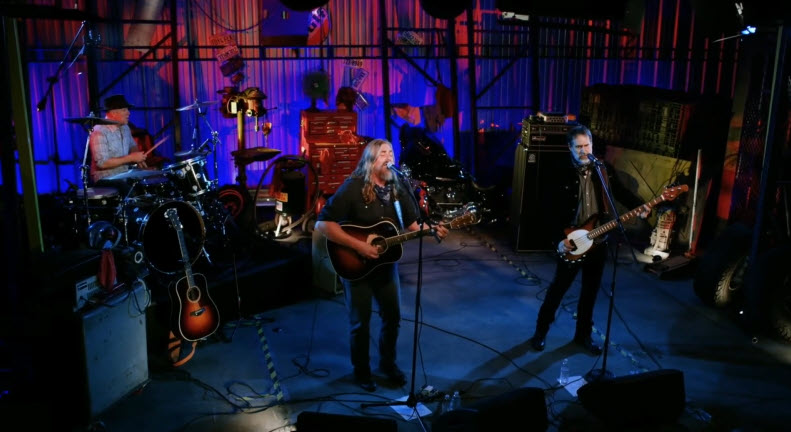 Steve Roberts 7:40 AM
If you're new to AWS, or even just curious about the global AWS infrastructure, you can use an animated globe to explore and see how we do it.
Martin Beeby 7:33 AM
Hi all, and welcome to the liveblog of the Infrastructure Keynote. Peter DeSantis will be taking the stage at 8:00 am, and we will be keeping you updated with everything that happens. I'm writing this from my home office in Northampton, England. I have copious amounts of coffee and water at the ready, and I am looking forward to a hectic 2 hours of Infrastructure news. We now have music from The White Buffalo.