Security, compliance, and governance in the cloud with AWS and Freedom OSS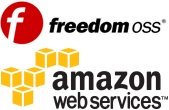 Freedom OSS, one of our solutions integrators, specializes in helping enterprise customers and Federal agencies build and deploy secure, compliant applications on AWS. On Tuesday 16 November, AWS and Freedom OSS are joining forces in a half-day event in Chicago. Presenters include:
Werner Vogels, Amazon Web Services CTO
Max Yankelevich, Freedom OSS Chief Cloud Architect
Joel Davne, Freedom OSS CEO
Yours truly — Steve Riley, Amazon Web Services technical evangelist
If you're in Chicago, please join us and learn how, together with AWS and Freedom OSS, you can:
Establish a single, flexible interface to initiate both self-service as well as engineer-assisted activities on the cloud.
Significantly reduce the time to market for mission-critical applications on AWS and reap the full benefits of cloud computing.
Use smart cards to insure compliance with NIST FIPS 140-2, ISO 11568, and FFIEC standards such HIPAA, PCI, SAS, and GLBA
Use DDoS prevention solutions to incorporate attack and provision defenses in real-time to protect your data stored in the cloud
Max and Joel, from Freedom OSS, will appear live. Werner and Steve, from AWS, will appear "via satellite" — or, to be more technically accurate, "via cloud."
Reserve your spot today: visit our announcement page for the full agenda, event venue details, and to register.