Sent To Smugmug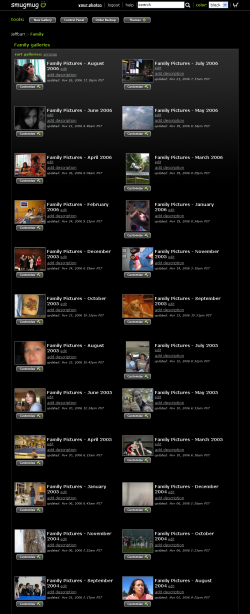 Over in the "practice what you preach" department, I've spent the last month or so uploading over 18,000 of my family pictures to Smugmug. Even though I store the photos on a RAID drive in my house and move regular DVD backups offsite, I am still relieved that someone else is worrying about my photos.
Smugmug is very easy to use. There are some nice third-party tools for uploading (via the Smugmug API). I used a powerful tool called Send to Smugmug.
Once the pictures are uploaded it is very easy to group, caption, and rotate them. The site scales down gigantic, high-resolution photos for display, but the originals are just a click or two away.
It is good to know that my family pictures are now smug as a bug in a rug, as they say.
— Jeff;
Modified 2/11/2021 – In an effort to ensure a great experience, expired links in this post have been updated or removed from the original post.