Sonian Archive SA2 – Data Archiving Service in the Amazon Cloud
Sonian Networks has completed their early-adopter program and is about to launch their new Amazon-powered data archiving service, the Sonian Archive SA2. I spoke with their executive team last week and was very intrigued by what I heard.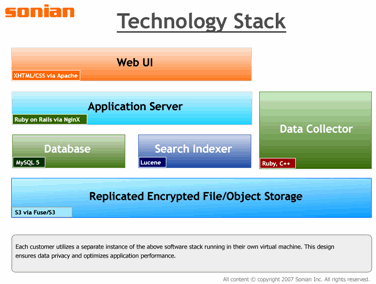 With the exception of one external watchdog server, the SA2 service is totally contained within the Amazon cloud! In fact, it was designed from scratch to be a highly-scalable cloud-aware application using four of the Amazon Web Services — Amazon S3 for storage, Amazon EC2 for processing, the Amazon Simple Queue Service for internal job control, and the Amazon SimpleDB for storage of document metadata. The automation, deployment, and self-healing aspects were all designed and built in-house.
They believe that the economies of scale which come from using AWS will allow them to offer SA2 at a very competitive price. Typical customers will retain archived data for 3, 5, or 7 years. Sonian Networks will retain all customer data, fully parsed, indexed, and searchable, for the specified retention period.
Their goal is to help mid-sized companies (those with a few hundred to a few thousand employees) do a better job of archiving internally generated digital content for storage management, electronic discovery and litigation support. They will begin by focusing on email (with integration to popular servers such as Microsoft Exchange, IBM Lotus Notes, and Novell GroupWise) and will expand over time to handle other types of managed content such as wikis and blogs.
Traditional data archiving solutions are appliance-based and suffer from capacity limitations. With the ever-increasing number of messages along with the fact that people routinely attach and store large documents and media clips, it is not surprising to learn that these systems tend to fill up far sooner than expected and that scaling up can be complex, challenging, and costly.
As you might expect I am thrilled to hear about in-the-cloud implementations like this. If you've got one, don't hesitate to send an email to awseditor@amazon.com .
— Jeff;
Modified 3/10/2021 – In an effort to ensure a great experience, expired links in this post have been updated or removed from the original post.