US National Voter Guide for Election '08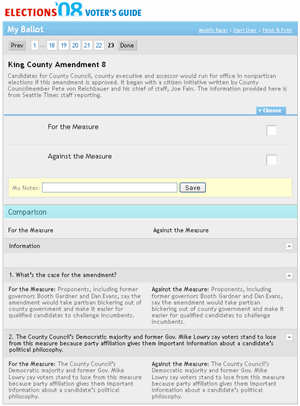 The EC2-powered Voter Guide is a very powerful and helpful site, as well as a handy illustration of why scalable cloud computing is the perfect solution for short-term sites which have the potential to draw a lot of traffic.
Designed by E-thepeople and produced in conjunction with over 100 local newspapers and TV stations, the site was designed to improve civic participation in US elections using internet technologies.The site makes it easy to find the races in each area, compare the candidates, evaluate other ballot issues, and then record and print choices in ballot form for election day.
After an address is entered, the site creates a customized voter's guide. Based on my home address, my voter's guide contained 23 items — some candidates, some initiatives, some propositions, and a few amendments. Each page (representing a single item) contains a summary of the item in question and a side-by-side comparison of the candidates or issues in question.
Sites which are relevant for a relatively short amount of time (in this case the weeks and days leading up to the US election). Paul Kahn, the site's operator, told me that peak traffic will run at 100x to 1000x the normal level. This makes EC2 a perfect solution, since they can add more instances as traffic grows, and then remove them immediately after the election after the polls close and traffic subsides.
So, US citizens, give the Voter Guide a shot, and don't forget to vote!
— Jeff;