Walking Through the Casting Words Store
As a followup to yesterday's transcription post, I thought that it would be helpful to walk through the entire process of submitting a podcast to Casting Words and getting the results back.
If you want to try this service yourself, you'll need two things the URL to an RSS feed which contains one or more podcasts, and a PayPal account. If you are looking for a suitable podcast, you could try one from IT Conversations, the Podcast.Net Directory, or from the Syndic8 Podcast List.
For this example, I am going to use the feed from Phil Windley's Technometria Podcast, which I found at IT Conversations. The feed URL can be found behind the orange RSS button on the site; the actual URL is http://www.itconversations.com/rss/category-rss.php?k=technometria&e=1 .
I'll start by visiting the Castings Words Store. Here's what I see: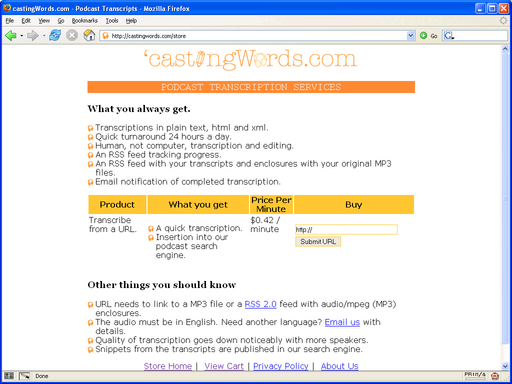 I enter in the URL to Phil's feed, and press the Submit button. Casting Words fetches the feed and displays the list of audio content (RSS enclosures), like this: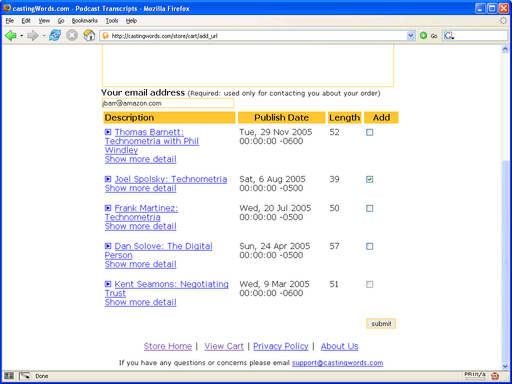 Casting Words then provides me with a price quote for the items that I have selected: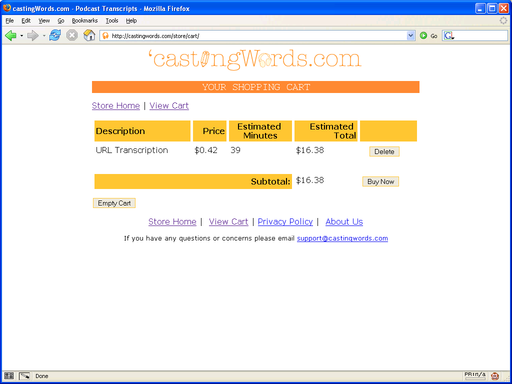 I am ready to go, and the price looks good, so I hit Buy Now to check out. I am routed to PayPal, where I enter in my account and password: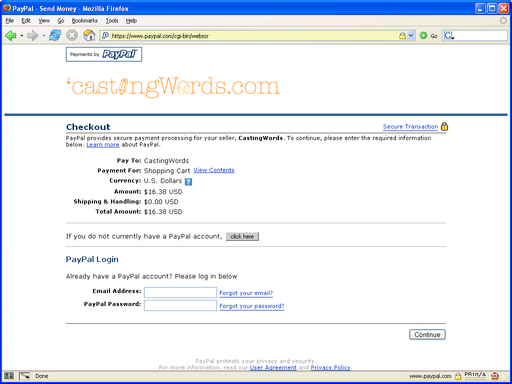 After confirming my purchase, I am routed back to Casting Words once again, and I get a confirmation page for my purchase: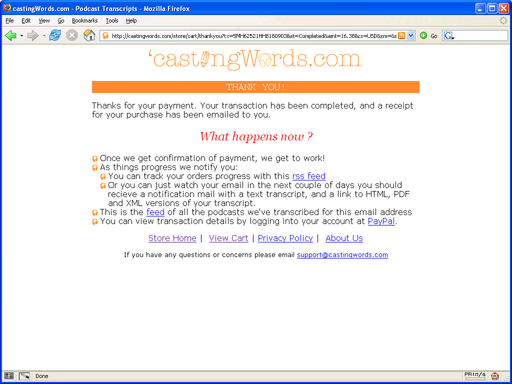 At this point the HITs are created and the Worker community will get to work on the transcript. I can choose to add the RSS feed to my favorite aggregator, or I can just watch my email inbox for a completion message. Note that this use of RSS to deliver dynamic, personalized status information is new, and definitely something do expect to see more of in the future.
After the transcript is complete, I get an email (this is the one that I got in response to a previous transcription request):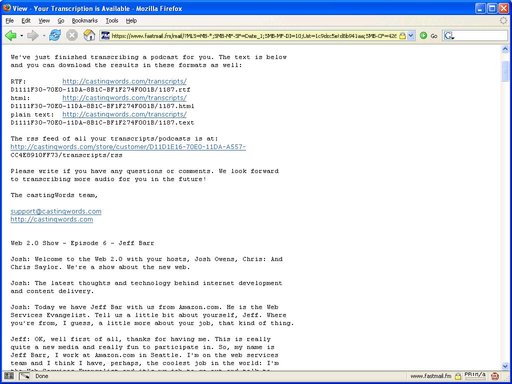 Finally, the completed transcript can be viewed on the site: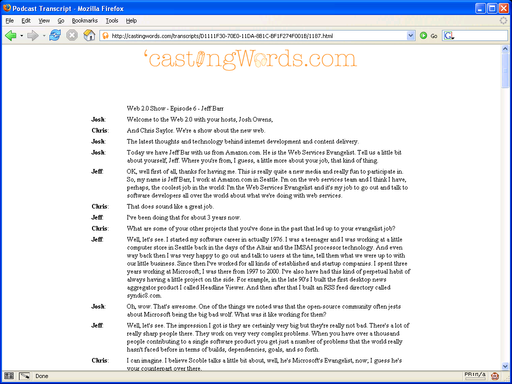 That's all it takes to get a world-wide, internet-scale workforce to band together to create a transcript. Is this cool, or what?
I hope that you have enjoyed this walk-through. Leave a comment below and let me know what you think.
— Jeff;