Zollage – Amazon Products Create a Collage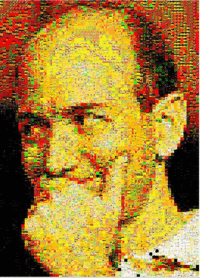 Francis Shanahan has created Zollage. Zollage uses a target picture and a set of product images drawn from one or more Amazon.com product categories to create a clickable collage. The image on the right was taken from a collection of pictures on FlickR.
Now visit the real Zollage of Jeff Bezos, and click on any item to see the Amazon product data associated with the image.
Zollage uses AWS, XML/XSLT, SOAP, JavaScript, XMLHttpRequest, C#.NET, Windows Forms, SQL Server and GDI+.
Is this cool, or what?
Modified 3/17/2021 – In an effort to ensure a great experience, expired links in this post have been updated or removed from the original post.