Amazon SageMaker for Business Analysts
Create accurate ML predictions without writing any code or requiring ML experience
Create up to 10 models with up to 1M cells of data free

Easily prepare data, train models, and generate predictions using a point-and-click interface.

Improve collaboration by sharing models and datasets with data scientists.

AutoML integrated into common BI tools such as Domo, Snowflake, and Amazon Redshift.

How it works
With Amazon SageMaker Canvas, business analysts can easily generate accurate predictions without writing code or requiring ML experience.

Browse, import, and join datasets
With SageMaker Canvas, you can browse and import data from cloud and on-premises data sources. You can easily connect multiple data sources, combine datasets, and create new unified datasets for training prediction models.

Learn more »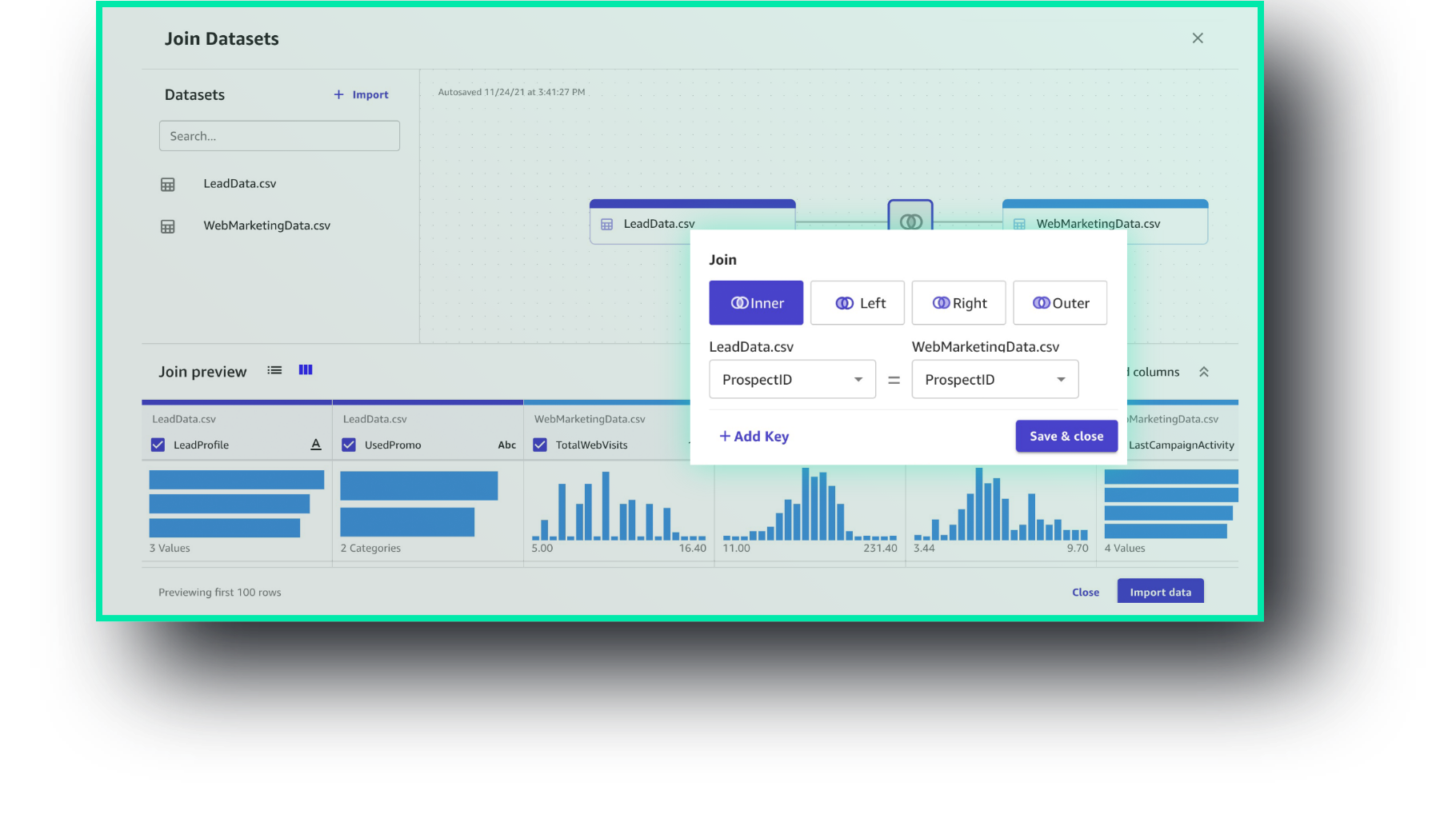 Built-in data cleansing and data preparation
SageMaker Canvas helps minimize the need to manually clean data by automatically detecting errors in your data and cleaning them. For example, SageMaker Canvas can automatically fill in missing values.

Get started »
Model preview
SageMaker Canvas uses a subset of your data to build a model quickly to check if your data is ready to generate an accurate prediction. Using this sample model, you can understand the current model accuracy and the relative impact of each column on predictions.

Get started »
Automatic model creation
You can use Amazon SageMaker Canvas to test hundreds of ML model candidates to create a model that makes the most accurate predictions based on your dataset.

Get started »
Built-in sharing
With SageMaker Canvas, you can easily share your models and datasets with data scientists that use Amazon SageMaker Studio, the first fully integrated development environment designed specifically for ML.

Learn more »
Partner integrations
SageMaker Autopilot is integrated with a variety of popular BI tools. Using BI tools, you can automatically generate predictions and deploy them to production with a single click.

Learn more »
Getting started
Get started with Amazon SageMaker Autopilot partner solution integrations
Learn more »