AWS Free Usage Tier now Includes Microsoft Windows on EC2
The AWS Free Usage Tier now allows you to run Microsoft Windows Server 2008 R2 on an EC2 t1.micro instance for up to 750 hours per month. This benefit is open to new AWS customers and to those who are already participating in the Free Usage Tier, and is available in all AWS Regions with the exception of GovCloud. This is an easy way for Windows users to start learning about and enjoying the benefits of cloud computing with AWS.
The micro instances provide a small amount of consistent processing power and the ability to burst to a higher level of usage from time to time. You can use this instance to learn about Amazon EC2, support a development and test environment, build an AWS application, or host a web site (or all of the above). We've fine-tuned the micro instances to make them even better at running Microsoft Windows Server.
You can launch your instance from the AWS Management Console: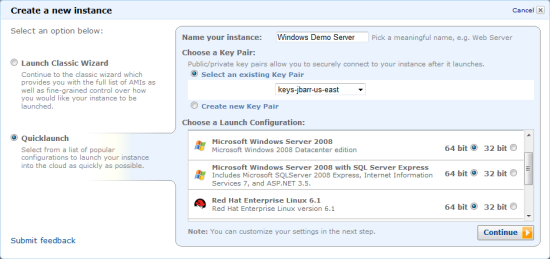 We have lots of helpful resources to get you started:
Along with 750 instance hours of Windows Server 2008 R2 per month, the Free Usage Tier also provides another 750 instance hours to run Linux (also on a t1.micro), Elastic Load Balancer time and bandwidth, Elastic Block Storage, Amazon S3 Storage, and SimpleDB storage, a bunch of Simple Queue Service and Simple Notification Service requests, and some CloudWatch metrics and alarms (see the AWS Free Usage Tier page for details). We've also boosted the amount of EBS storage space offered in the Free Usage Tier to 30GB, and we've doubled the I/O requests in the Free Usage Tier, to 2 million.
I look forward to hearing more about your experience with this new offering. Please feel free to leave a comment!
— Jeff;
PS – If you want to learn more about what's next in the AWS Cloud, sign up for our live events.
Modified 10/27/2020 – In an effort to ensure a great experience, expired links in this post have been updated or removed from the original post.