CohesiveFT's Elastic Server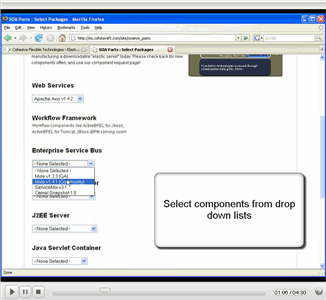 As part of my most recent trip to London I paid a visit to a suite of offices shared by LShift and CohesiveFT. I gave them an in-depth AWS presentation and we also discussed Cohesive's Elastic Server product.
Elastic Server simplifies the process of creating application stacks for use on EC2 and other virtual environments. Instead of the painstaking manual downloading, configuration, building, and installation that is otherwise required when creating a complex stack, Elastic Server provides a menu-driven selection and build process.
After choosing the desired web service environment, workflow framework, J2EE server, enterprise service bus, Java servlet container, page server, message queue and AMQP broker the user simply enters the desired virtualization parameters and initiates the build process. After a few minutes the build process spits out a a finished EC2 AMI. From there it is easy to launch one or more instances of the AMI using the EC2 Firefox Manager or another EC2 tool.
Each application stack is configured to include a copy of Cohesive's web-based Elastic Server Manager for easy management of each component.
If this sounds cool you should definitely watch the video to see how it works.
— Jeff;