Correlates.com – Compare Two Products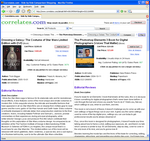 Correlates.com is a comprehensive shopping site that allows you to locate any two Amazon products and compare them side by side in the same window.
That way you don't have to keep switching between windows to see how the details of one product compare with the details of another. The last 25 items you looked at are saved, and you can switch between items in a jiffy.