CoverPop.com – 1000 Amazon Products on One Page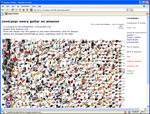 Krazy Dad Jim Bumgardner has managed to squeeze up to 1000 Amazon products into a single dynamic web page, and he has called the result Cover Pop. What's more, he has individual pages for a number of product categories including Horror DVDs, Cult Movies, Classical Music, Drums, and Guitars (who knew there were so many guitars for sale at Amazon?).
Jim has also created a simple tool to let you make a smaller interactive banner ad for your own web site.