Junk I Want – Easy and Flexible Wishlist Embedding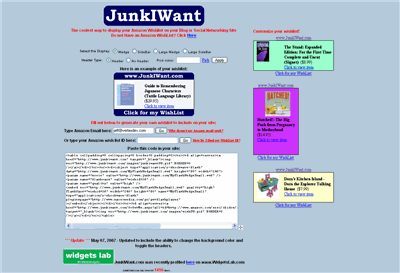 Tom Sprows recently wrote to tell me about his new tool JunkIWant. This tool simplifies the process of embedding an Amazon Wishlist in a blog page, a MySpace page, or even a regular web site.
You have a choice of 4 different styles, along with control of colors. You can specify your wishlist by id or by email address. Once you have made your selection you will be provided with the HTML code needed to embed the JunkIWant applet on the site of your choice.
I asked Tom to tell me about some of the interesting challenges he faced while building his site. He noted that he created a proxy application so that he could call the Amazon E-Commerce Service, as well as a caching mechanism to ensure that he stayed within the Terms of Service. Tom notes that "The Amazon ESC was pretty easy to work with. The tough part was providing the configuration and interaction with the Flash Applet."
We'll look forward to seeing more cool and useful applications from Tom; he told me that "I had alot of fun with this project and will continue to look at Amazon web services for future business opportunities."
— Jeff;