New – AWS Service Catalog Connector for ServiceNow
Enterprises want to provide their employees with apps and tools that will allow them to do a better and more efficient job, while still providing oversight and governance. AWS Service Catalog helps enterprise IT to meet all of these needs, with a focus on cloud-based solutions. Administrators assemble portfolios of products, add rules to control and manage user access, and make the resulting portfolios available to their organization. Employees browse the catalog to find and launch the desired product. ServiceNow is an IT service management (ITSM) platform built around activities, tasks, processes, and workflows. The ServiceNow Service Catalog allows users to locate and order IT services, powered by a workflow that includes approval and fulfillment steps.
We recently launched the AWS Service Catalog Connector for ServiceNow and I would like to tell you about it today. The connector is available in the ServiceNow Store. It synchronizes AWS Service Catalog portfolios and products with the ServiceNow Service Catalog so that ServiceNow users can request approved AWS products without having to log in to an AWS account. The ServiceNow Service Catalog administrator has full control of the AWS-powered IT services (visible as products in the AWS Service Catalog) that they make available to their user base. This includes service configuration, AWS tagging, and access control at the individual, group, and role level. Provisioning requests can be connected to workflows and can also make use of a default workflow. ServiceNow users can browse the catalog and request provisioning of products that are managed within AWS Service Catalog, including AWS Marketplace products that have been copied to AWS Service Catalog.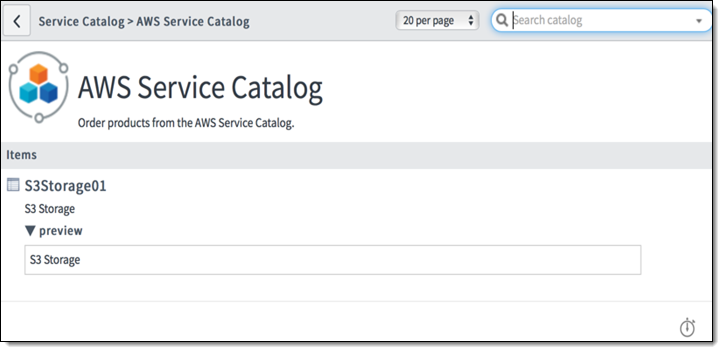 To learn more and to get started, read How to Install and Configure the AWS Service Catalog Connector for ServiceNow.
— Jeff;