Our Newest Web Service – Evangelists On Demand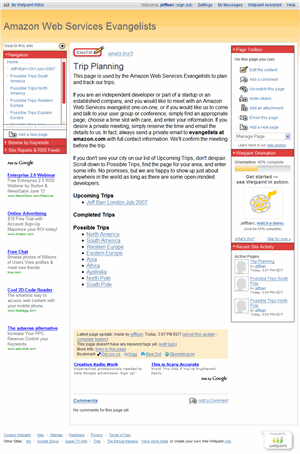 For the last several months my team and I have been experimenting with a self-serve scheduling model. In essence we create a wiki page, announce it on this blog, and then invite interested parties to add themselves to our schedules.
This model has been working really well. We get to meet with a lot of developers and we get great invitations for conferences and user groups. It also reduces the amount of email traffic that we have to deal with, leaving us more time to actually go out and talk.
Earlier today I created a whole new and somewhat more polished Wiki at http://evangelists.wetpaint.com/ . This is a central point where you will be able to see our past trips as well as our future trips.
You will also be able to request that we come to visit your city! While we can't be everywhere at once, we will use the new pages to aggregate the demand for our presence in cities all over the world. This part is still experimental and we'll have to fine-tune it as we go. If you are aware of user groups or other interested parties in your city, please feel free to point them to the Wiki and invite them to set up a meeting.
We do ask that you send us a private, confirming email with additional information.
— Jeff;
PS[1] – If you schedule us for the North Pole and claim that you work in Santa's IT Department, you'd better have an email address at northpole.com!
PS[2] – Keep me busy in London per the link on the page (July).
PS[3] – Keep me busy in Europe too (September).