ShopEdge – Amazon on a Smartphone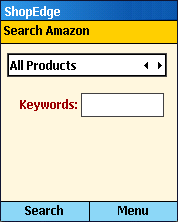 The ShopEdge program allows owners of any Smartphone (the site lists Audiovox SMT 5600, Motorola MPx220, Cingular Samsung SCH-i600, Verizon Wireless SP-i600 Smartphone, and the Sprint Voq Professional Phone) to access the Amazon product catalog using a clean and simple user interface.
Features include price checking, access to reviews, movie showtimes, and restaurant information.
Free download and more information can be found here.