TicTap Contextual Ads
Early this morning I received an email from Alex Choo over at TicTap.
Alex wanted me to be among the first to know about TicTap's new Contextual Ads. The new system uses ECS to show very attractive contextually relevant ads in sidebar form. Each ad block can display up to 50 products, supplanted by a very stylish mouseover popup for each product: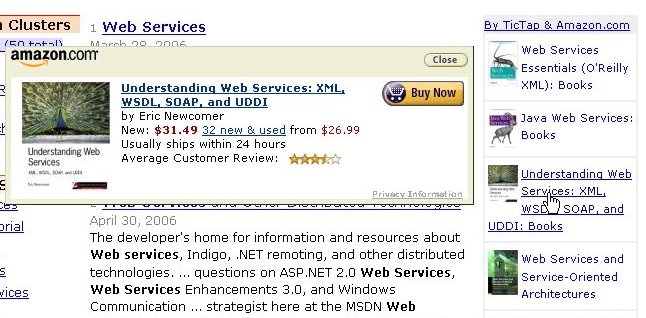 There are lots of options and customization hooks, and the code is available for free download here.
Every time I talk to an industry analyst or to a journalist, I like to mention the fact that our developer community is creative and innovative. This is a perfect example of what I mean.
Do you have an application, tool or site built with one or more of our services? Do you want to see it featured in this blog? Send me some email — awseditor@amazon.com .
— Jeff;