Tokyo Linux User Group Meeting on Amazon Developers Island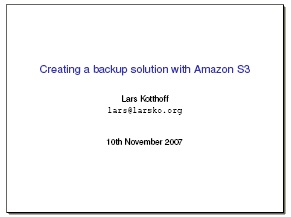 The Tokyo Linux User Group will be conducting a combined real-life / Second Life meeting this weekend.
Lars Kotthoff will be giving a presentation on a Ruby script he has developed for backup using Amazon S3 . The presentation will be given in English.
The Second Life portion of the meeting will take place in the Conference Center on the Amazon Developers 1 Island at 9 PM Second Life Time (that's the same as Pacific Standard Time) on Friday, November 9th.
If you are in Tokyo you can attend this meeting in person on November 10th at 14:00 JST at the following location:
Cerego Japan Offices
Ninomiya Bldg, 4F
18-4 Sakuragaoka-cho
Shibuya-ku, Tokyo, Japan
I will be on the island for the duration of the talk and hope to see you there. If you have any trouble finding the island, please send me an instant message from within Second Life. My avatar name is Jeffronius Batra.
— Jeff;