AWS Travel and Hospitality Partner Conversations: Capgemini
Vijay Achanti, Hospitality Market Lead for Capgemini joins Florian Tinnus, Worldwide Partner Leader for AWS Travel and Hospitality, for a broad-ranging discussion around how AWS Partners are helping customers build resilience and prepare for what's next in travel and hospitality.

During this unprecedented time for the industry, we have been inspired by the innovations that have been born out of disruption and will impact and improve the way we fly, eat, stay, and experience our world for years to come. Now more than ever, AWS wants to help customers succeed by connecting them to AWS Partners with deep AWS technical expertise and proven customer success to help travel and hospitality organizations build a resilient business and accelerate innovation. That's why we're honored to have Capgemini as a launch member of the brand-new AWS Travel and Hospitality Partner Competency.

—

Florian Tinnus: Describe your company, the types of travel and hospitality work you do, and key travel and hospitality clients.

Vijay Achanti: Capgemini is a global leader in consulting, digital transformation, technology, and engineering services. We are at the forefront of innovation to address the entire breadth of clients' opportunities in the evolving world of cloud, digital, and platforms.

Our Travel and Hospitality Market Unit serves clients in the cruise line, hotel, travel, and gaming segments globally. We help our customers with strategy and innovation, digital transformation, core platform modernization, and cloud enablement.

What makes Capgemini unique, though, are the individuals who make up these Market Units. We have incredible people who work collaboratively with our clients to deliver results.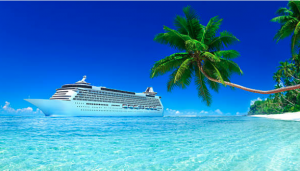 FT: Many companies across travel and hospitality have been managing through a period of unprecedented disruption. What have been the biggest challenges you've faced during this recent period and how have you helped clients manage through them?VA: Prior to March 2020, there had been numerous disruptions fielded by the travel and hospitality industry, but few events have touched every facet of life like the COVID-19 pandemic has. Revenues plummeted overnight, companies instituted furloughs to cut cost yet minimize knowledge loss, and confounded employers were unsure how to protect their employees and customers.
Wading through revenue loss, resource cutbacks, and needs for protecting employee health and safety, our teams have proven their agility and resilience in these difficult times despite the sudden shift to a remote workforce. Similar to other industries, the biggest challenge has been the known unknown: the uncertainty around the return to normalcy.
Given these circumstances, our teams have stepped up to help our clients in a few fundamental ways since the pandemic began. Take cash flow, for example; by enabling efficiencies to preserve cash at a large scale, we have helped our clients to sustain themselves longer throughout the pandemic and periods of historically low cash flow. While staying afloat is crucial, we have also empowered our clients to leverage the latest advances in AI/ML and cloud to build features critical to combatting challenges brought on from COVID-19, such as initiatives to provide contactless customer experiences.
While reacting to today's challenges is vital, we also value the opportunity to be proactive in this environment. By optimizing the forced downtime, we accelerated our clients' digital transformations to differentiate themselves in the post-COVID-19 marketplace. With the goal in mind to help our clients continue running their businesses with as little disruption as possible, we have come up with creative solutions to today's problems that set our clients up for success post-pandemic.
FT: It's been an incredibly difficult time for travel and hospitality companies, but we've seen many companies investing for the long run. With all the uncertainty, why has your company chosen to invest in travel and hospitality at this time?
VA: As consultants, we at Capgemini value the importance of travel and hospitality first hand. Whether for work or for play, travel and hospitality is what rejuvenates both ourselves and those around us. We know it's not going anywhere — it's just a matter of time until we're back in the thick of it!
As such, travel and hospitality is a key industry for Capgemini with long and trusted partnerships with our clients. It is important that we continue to stand with our clients during these tough times to ensure their successes both now and in the future.
Given the unique nature of the industry, there are many outside factors that heavily influence this industry, such as climate, legislation, and the economy to name a few. However, the travel and hospitality industry is incredibly resilient as we have seen many times in the past; it has risen to meet new challenges, emerging with a stronger business outlook from each new obstacle. We believe that customer demand will also rise as the pandemic is harnessed and brought under control. The world is carrying 18 weighty months of grief and uncertainty, but it is also bursting at the seams to release those 18 months of pent up demand — some call it "revenge travel" — right back into the economy.
Travel and hospitality have always been at the forefront of exceptional customer experience by utilizing new and evolving technology. With new barriers to overcome, this industry will unfetter itself through advances in data, cloud, and AL/ML, ultimately enhancing the overall customer experience.
FT: In the face of the current disruption to the travel and hospitality industry, we've observed incredible innovations coming from across the industry. How has your company innovated through these challenging times on behalf of your customers and what are you most proud of?
VA: The disruption brought on from COVID-19 was an entirely new territory that we had never experienced — there was no "playbook" to navigate the ever-evolving situation. Both our teams and our clients had to adapt quickly, both personally and professionally.
What I am proud of the most, though, is how we as a team were able to adapt to a new working model without any disruption to our clients' business. Whether working to meet new CDC guidelines or implementing new strategies to go above and beyond those guidelines, we have helped our clients manage the current and constantly changing challenges through increasing operational efficiencies, meeting new safety and health regulations, and serving their customers socially distanced and digitally.
By collaborating with clients, we have expedited their journeys towards their digital transformations, cloud adoptions, and platform modernizations of their businesses. Through these changes, our clients are enhancing the digital customer experience and preparing for new challenges down the road from COVID-19.
FT: The travel and hospitality industry is incredibly resilient. As you look toward recovery, what role does technology play for your company moving forward? How do you see technology enhancing the customer experience and improving operational efficiency?
VA: In the post-pandemic world, we believe the health and safety of employees and customers will be the top priority of our clients as they resume operations. Many of the solutions that are being developed during this time will have to outlive the pandemic. Whether a difficult flu season or new cultural movement, the safety and convenience now afforded in the travel and hospitality industry will remain long after COVID-19 is behind us.
Health and safety will go hand in hand with providing a seamless, personalized digital customer experience. Leveraging data and cloud adoption will play a huge role in driving the new wave of personalized, digital customer experiences.
FT: How does building on AWS allow you to prepare for whatever the "new normal" in travel and hospitality will look like? How does the new AWS Travel and Hospitality Partner Competency help companies do the same?
VA: AWS is a leader in the cloud industry, offering one of the largest suites of tools to tackle enterprise-sized challenges that can affordably scale. With these abilities at hand, we are able to leverage our partnership with AWS across all market units.
AWS is prepared to take on the wide range of services that will dictate "the new normal." By leveraging our knowledge of AWS services, we can build agile and scalable solutions at an accelerated pace for our customers. With the new AWS Travel and Hospitality Partner Competency, consumers will be assured that companies have both the experience and thought leadership to solve these "new normal" challenges.
FT: What makes you excited for the future of travel and hospitality? As a traveler or guest, where are you looking forward to visiting next?
VA: As a consultant for the past 14 years, I have enjoyed traveling extensively. The pandemic has, of course, changed that drastically and I have not been able to travel for the last year. I am excited to get back on the road and experience many of the new, digital innovations that have come out of the pandemic. And personally, I am looking forward to attending a cricket match in London when the Indian teams visit England this summer.
—
Vijay Achanti is Capgemini's Hospitality Market Unit Lead, responsible for cruise, gaming, hotels, and recreation sectors.
Vijay has been with Capgemini for over 15 years and prior to his current role, he has led several large accounts in Telecom, Media and Entertainment business unit. His expertise is grounded in leveraging data and emerging technologies such as AI/ML, and cloud to help his clients provide exceptional digital guest experience for their guests/customers. He has a master's degree in electrical and Computer Engineering from the University of Alabama.
—
Learn more and team up with AWS Travel and Hospitality Competency Partners.
See more Partner Conversations and industry insights on the AWS Travel and Hospitality Blog.