Startup Central at AWS Summit – Anaheim to feature Periscope Data, Wag and Super League Gaming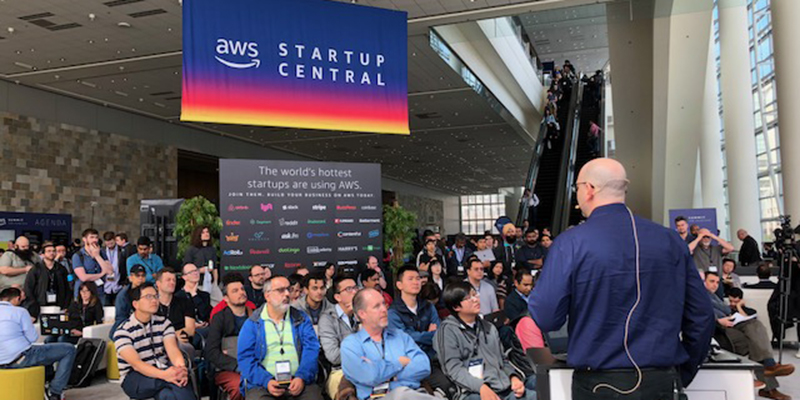 On Thursday, AWS Startup Central will be hitting SoCal for the first time at the AWS Summit – Anaheim! Startup Central will be featured at the summit and will once again be a place for startups to meet, hear tech talks by other startups, and also have access to startup experts to get answers to your trickiest questions and some 1:1 time. The intent of the booth is to provide those attendees who are looking to grow and develop their startups with a collaborative experience, by featuring opportunities to make valuable connections, ask questions, and gain educational opportunities to learn.
This year's Summit in Anaheim will feature a few different areas, all aimed at providing startups with a beneficial place to meet and learn.
Startup Central: This is the main hub is a place where startups can meet, listen to talks by other startups, and get in-person answers to AWS technical questions. Note: Startup Central will be located within the main expo hall next to the Day 1 Theater.
Ask a Startup Expert Bar: AWS startup experts will be onsite throughout the day to answer any technical questions you may have, whether they be product/service specific, or basic, foundational questions you may want clarification on. No appointment necessary!
Startup Talks featuring Hot Startups: Join us at Startup Central's theater for a series of engaging talks from other startup companies' CTOs, SVPs and lead engineers. These talks will include information on various projects they're working on, products/services they've used, and how they've leveraged AWS to ultimately find success. Featured startups include Symphony, DataVisor and Periscope Data.
You can optimize your day by attending sessions, workshops, and hands-on activities. Find the full AWS Summit – Anaheim agenda here.
Startup Central Agenda at the AWS Summit – Anahiem
12:00PM: Periscope Data – Analytics At Scale: 20M Queries/Day With Thousands of Warehouses
12:30PM: DataVisor – AI/Big Data/Cloud Patterns for Fraud Protection
1:00PM: Symphony – Designing Secure Multitenant Services
1:30PM: LifeOmic – Born serverless in a world demanding HIPAA and HITRUST
2:00PM: Super League Gaming – Architecture and Design: Cloud-based streaming of Esports Events
2:30PM: Wag – Autoscaling Hybrid Blue/Green + Canary Deployments with ECS, ALBs, Route53 and HAProxy