Startups on Air: re:Invent Rendezvous
AWS's annual re:Invent conference may not traditionally be known for its startup scene, but at this year's iteration, Global Startup Evangelist Mackenzie Kosut took advantage of the massive event to chat with five hot startups for his Startups on Air video series. Throughout the week, Kosut wove his way up and down the Las Vegas strip between hotels and venues, talking to CEOs, CTOs, and heads of engineering from all over the world—all ready to embrace the opportunities that re:Invent presents.
Damien Patton, CEO of Banjo, is the first to admit he has a problem and his problem is automation. Hear him chat with Kosut about how he's turned his problem into a strength and how the company is utilizing K8, MXNet, and AI to change how human beings interact with time. Banjo takes in live data from social apps, traffic cameras, weather, and any kind of live, streaming data and then aggregates that information using AI and ML for individuals. Check them out but fair warning: time as you know it is about to change forever!
Know what's happening anywhere instantly #k8 #mxnet #ai #reInvent https://www.periscope.tv/w/1dRKZbXpLDVKB
-AWS re:Invent (@AWSreInvent) November 30, 2017
Cloud Conformity, a Sydney-based startup that provides the ability to look across your company's entire infrastructure to view security risks, showed Kosut how to diagnose those risks and understand how to fix those risks. In particular, Keith Davison, Director, Global VP of Revenue, and Mike Rahmati, Co-Founder & CTO, discussed how Cloud Conformity is focused on AWS security, compliance, and cost-management.
Helps you measure your cloud architecture against AWS @WellArchitected Framework #reInvent https://www.periscope.tv/w/1YqKDLjlrLNKV
-AWS re:Invent (@AWSreInvent) November 27, 2017
SendBird CTO and Co-Founder Harry Kim spoke about how his company supplies its customers with the simplest messaging solution for both websites and mobile apps. Hear from Kim about how AWS services has saved SendBird a lot of time, ultimately allowing them to focus on building better products and services for their customers, as well as their process (Kinesis aggregates all of their data, which is then moved into S3, and then Athena is utilized for any questions about that data.)
Simplest messaging solution for mobile apps and websites! #reInvent #athena #kinesis https://www.periscope.tv/w/1mnxerjrrORKX
-AWS re:Invent (@AWSreInvent) November 28, 2017
For all of you fantasy sports fans out there, Jason MacInnes, CTO of DraftKings, the world's leading daily fantasy sports brand, discussed how they've used machine learning to scale their EC2 infrastructure based on both current and predictive demand. Hear him talk about the value of startups attending re:Invent for startups, for content and networking purposes.
Talking w/ CTO of @DraftKings
World's leading Daily Fantasy Sports brand. Using #ML for predictive autoscaling! #reInvent https://www.periscope.tv/AWSreInvent/1LyGBROnpyPGN
-AWS re:Invent (@AWSreInvent) November 29, 2017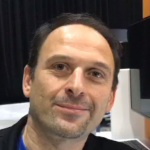 OpsGenie CEO and Co-Founder Berkay Mollamustafaoglu spoke about how the company, an alerting and incident management solution for dev and ops teams, uses Cloudwatch, RDS, Kinesis, and Lambda. He also discussed how OpsGenie is a flexible product, as teams can choose their own escalation policies and how they want to respond to alerts.
Alerting & Incident Management for Dev and Ops teams! #kinesis #lambda #reInvent https://www.periscope.tv/w/1mrxmZAMVEgKy
-AWS re:Invent (@AWSreInvent) November 29, 2017