AWS's Maureen Lonergan on overcoming barriers to cloud skills education
AWS Training and Certification is breaking down barriers to cloud education, giving learners and organizations across the globe the opportunity to learn straight from AWS experts. In this podcast episode, AWS Enterprise Strategist Jake Burns speaks with Maureen Lonergan, director of AWS Training and Certification. Their conversation focuses on how AWS Training and Certification offers the resources you need to develop your team, innovate in the cloud, and transform your organization.
During her extensive travels, Lonergan has seen firsthand how transformative training and education can be.
"I've always been passionate about education," says Lonergan. "I believe it's the great equalizer." She brings that drive to her role at AWS and looks for ways to think bigger. "You come to an industry that is completely innovative and remove barriers of what is possible. And you think much bigger about what you could do and how you could transform the training industry or provide skills."
AWS Training and Certification helps its global customers think bigger, comprehensively training organizations with the necessary cloud skills to help maximize their cloud investment and retain talent. Lonergan chats about how companies are changing their approach to these skills: "I think people are recognizing that there is a big gap and that they have to look internally to their talent."
She recommends that companies designate an internal executive sponsor and perform a learning needs analysis. Additionally, she encourages companies to build out a plan that keeps current projects, like large scale migrations or digital transformations, in mind.
However, AWS Training and Certification programs don't end with corporate-style training. Lonergan and her team are also thoughtful about providing a variety of training options to meet individual learners where they are and according to their own learning styles. There are more than 500 free digital courses available to anyone interested in learning about the AWS Cloud.
Removing barriers and making learning accessible are also big parts of how Lonergan and AWS approach inclusion and diversity in cloud training. "Inclusion and diversity are a core part of how we develop programs," says Lonergan. "We want to promote these values alongside our customers and partners, and our number one goal is to make sure that we're building a diverse tech workforce."
"We have a great leadership principle at AWS—'Learn and be curious,'" says Lonergan, and through AWS Training and Certification, "it's like instilling in other organizations that culture of learning. And I think it makes for such a better environment for people to take risks safely and to be OK with failing. You know, you don't learn if you don't fail. And providing that environment where people can learn and fail—it's critical."
Listen to the full conversation between Lonergan and Burns on the AWS Conversations with Leaders podcast.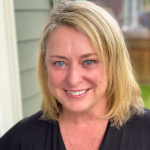 Maureen Lonergan is Director of Training and Certification for Amazon Web Services (AWS), where she leads a team committed to training diverse cloud builders of today and tomorrow. Maureen helps AWS customers, partners, and employees to gain the skills and knowledge to realize their cloud goals in the age of digital transformation.