Cloud training trends driving business growth in 2022
With the demand for cloud-skilled employees continuing to surge, many organizations are seeing cloud training programs in a new light. As they shift workloads to the cloud, grapple with the great resignation, and look to fuel growth, cloud upskilling has shifted from nice to have to need to have in 2022. So, what does that look like? How are organizations using training programs to keep and grow their workforce? How can they stay on the cutting edge of the cloud to meet customer needs? To answer these questions, we've gathered five trends driving training strategies and priorities in 2022.
Retaining talent supersedes hiring new talent
As more companies move their operations to the cloud, the need for individuals with cloud skills continues to increase. However, it remains difficult to find talent with the right skills. According to the Global Knowledge 2021 IT Skills and Salary Report, 54% of IT decision makers say they've been unable to fill at least one position, and 38% report having three or more unfilled positions. On top of the already shallow cloud talent pool, the great reshuffle is resulting in more workers questioning their quality of life at work and choosing to leave their jobs in search of more purpose-driven and balanced work. As a result, organizations are rethinking their hiring and retention strategies: 56% of organizations say the answer to their skills gap is training existing staff.
To meet the accelerating demand for skilled workers, organizations are turning to both formal and informal employee training opportunities. From implementing monthly training days to investing in a phased training approach based on individual learning needs, offering skills development opportunities is becoming a key method for retaining top talent and becoming a preferred employer for new talent.
Organizations that are intentional about providing training and career-growth opportunities will see a return on their investment. For example, a recent Enterprise Strategy Group (ESG) study found that employees whose organizations always fund their Amazon Web Services (AWS) Training are 3.9 times more likely to be very satisfied with their employer, and 84% are less likely to look for another job elsewhere. Similarly, individuals whose employers always fund their AWS Certification exam fees are 4.4 times more likely to be very satisfied with their employer, and 87% are less likely to seek employment elsewhere.
Cloud skills training moves beyond the IT desk
In today's global business environment, you'd be hard-pressed to find many career roles that don't require some technology expertise to complete daily tasks. Organizations moving to the cloud and building cloud fluency skills among staff in roles outside IT—such as sales, marketing, finance, HR, and more—are able to fast-track their cloud innovations by streamlining operations, increasing agility, and reducing overall costs.
As interest in and the implementation of the cloud grows, organizations will increasingly turn to an organization-wide upskilling approach, ensuring their employees, regardless of department, understand the role the cloud plays within the organization's overall business strategy. In fact, a recent global digital skills study found that 83% of tech workers and 76% of non-tech workers who participated in skills training felt that their training has improved their employability by allowing them to stay up to date with the latest technologies.
For example, Kmart Group Australia invested in an AWS Skills Guild program and set an ambitious goal to train 100% of its technical staff along with 80% of its non-technical head office employees. As a result, they trained 1,400 IT, retail, and head office staff across Australia—from technical teams to executive assistants, store managers, finance professionals, inventory staff, and even the CEO. With strong support from the top, employees across the company were supported in their cloud education, which drove greater cross-team collaboration and innovation from unexpected places. In one case, a manager from a Darwin Kmart store used his new-found cloud insights to optimize delivery schedules from thousands of kilometers away, making them more efficient and cost-effective.
Making space and time to prioritize learning
Learning and development must be integral pillars of your business strategy to enable growth in your organization. To achieve this, business leaders need to invest in and nurture an environment that places upskilling and experimentation at the forefront of the business—and employees are asking for this. The same Global Knowledge Report mentioned above found that 85% of learners desire additional training but expressed facing barriers. Their biggest barrier is not surprising: workload, according to 43%.
There are several ways leaders can remove this barrier for their employees. For example, Zalora, the largest ecommerce fashion retailer in Asia, allots a generous five days for their employees to consume AWS Training per month. Employees can choose training sessions based on their interests, and course work doesn't need to directly correspond to their current role. Thanks to their culture of continuous learning, engineers can now perform development work 15% to 30% faster, increasing Zalora's time to market.
Leaders set the tone for their organization by fostering a culture that encourages continuous learning as a business imperative. In particular, large organizations undergoing cloud transformation projects need to be proactive about creating an environment that prioritizes upskilling.
Skills training as the innovation enabler
Digital transformations can be seen across the globe and are changing the pace of the innovation race. Meeting customer needs requires a nimble, adaptable, and resilient attitude in order to pivot quickly.
At AWS, we hear from CEOs and CTOs across all industries that their most important customer metric is time to value. Increasing this metric requires experimentation, which starts with making sure your team has the right skills. Companies that are intentional about providing training to their workforce—along with the permission to fail—find it leads to greater speed to innovation.
Case in point, Principal Financial Group® (PFG), a Fortune 200 financial services company, is accelerating its digital transformation to enable financial security and meet the evolving needs of the more than 49 million customers around the world. Principal believes that operating as one global, integrated business with a modernized, cloud-first approach, allows them to be agile, embrace disruption, and deliver hyper-personalized experiences for their customers. By upskilling its existing staff with foundational cloud fluency, PFG accelerated its cloud adoption, and has significantly advanced its employees' cloud capabilities and ability to innovate in the cloud. In its first eight months of training, PFG has upskilled 1,650 employees, leading to faster delivery of customer solutions and increased global collaboration of its teams.
Personalized training becomes the standard
Gone are the days of out-of-the-box, once-a-year training for teams. Instead, to keep pace with innovation and remain competitive, many organizations are turning to personalized digital training experiences. In fact, 87% of organizations that have invested in digital skills training say they benefited by fast-tracking their digital goals. Personalized training removes the one-size-fits-all approach, ensuring employees are learning according to their specific needs. AWS offers several different modalities to meet learners where they are—from digital, self-paced training, to webinars, to Twitch-based courses and AWS Classroom Training led by expert instructors.
Through a combination of instruction, technology, and enhanced digital experiences, personalized training is becoming the new standard to keep employees engaged and their skills fresh. This results in increased employee confidence, more opportunities for cross-team collaboration, and more experimentation.
What's next?
Digitization has the power to drive economies, build wealth, and alleviate poverty. The opportunities that digital transformation offers, however, begin with skilled workers. Organizations should consider how they'll foster learning. Is it by creating space and time for their employees to invest in training? Who will serve as their organization's skills training champion by encouraging upskilling goals for both IT and non-IT employees? Training today's workforce requires a focus on meeting employees where they are and building a culture to embrace learning at every level of technical proficiency.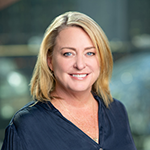 Maureen Lonergan is the Vice President of Training and Certification for Amazon Web Services (AWS), where she leads a global team of builders committed to training the next generation of cloud talent. Maureen helps AWS Partners, customers, and employees gain the skills and knowledge to unlock the power of the AWS Cloud in the age of digital transformation. Learn how AWS Training and Certification can help you achieve your cloud goals for 2022 and beyond.