How education can inspire us to pay it forward: Florian's story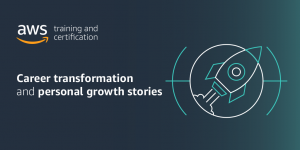 When cloud computing first swept through the technology industry, Florian quickly understood its potential and joined a wave of inquisitive developers for whom the cloud sparked an intense interest.
Fast forward to today, and Florian's passion for the cloud and the opportunities afforded by it remain, and his journey from cloud novice to budding technical author and application developer is one of inspiration.
Florian's story is steeped in the transformational power of learning, and democratizing education is a personal passion. Florian is a regular participant in AWS communities where he dispenses technical knowledge and insights that light the way—sometimes literally—for others to achieve.
AWS Training and Certification was the initial spark that helped develop his coaching interest while increasing his confidence to develop applications that sit front and center within client environments.
Florian's message is clear: If you're of a similar disposition and want to be at the forefront of something that'll make a real difference to a new generation of developers, check out AWS Training and Certification today.
We hope you'll be inspired by his story below.
Florian Clanet, Cloud Architect, Sopra Steria
What attracted you to a career as a developer and AWS Training and Certification?
Years ago, I was working mainly as a back-end web developer using .NET technologies and learning a lot. However, for one project, our client wanted to decommission some on-premises servers and move an app to AWS. I'd heard a lot about the cloud and was curious how this would work. So, I approached my company about learning more. Fortunately, they were happy to support me and this is where my AWS Training began. While the rest of my team focused on developing new features for the app, I was learning about migrating the app and while doing that, I decided it would be advantageous to add some architecting skills.
It was really great timing because this client's AWS platform was right at the start, so I was able to support them with important activities, such as setting up best practices. Learning from the ground up gave me lots of insights that I was able to share with my team.
What did you learn from this process aside from cloud development?
This project, and being involved with it right from the beginning, really sparked an intense interest in learning—not just for myself, but in coaching others.
Soon, I was participating in the AWS community, posting content, and giving advice to others. I started a blog discussing everything I had tried as well as reviewing new AWS releases. More recently, I've applied to the AWS Community Builder program, which gives everyone access to technical experts, tools, and resources so they can acquire and share more knowledge across the AWS community. By participating in AWS Training and Certification, I've become so passionate about empowering others by sharing my knowledge.
To bring that knowledge to life in a new way, I'm now working on a project to write a mixed technical fictional book about people working in cloud development.
What's been your most rewarding moment since beginning your AWS Training?
Most definitely, the first time I felt I had the confidence to apply what I learned to a real-world project. It reminded me of being in high school and wanting to participate in the school play. I was too shy to act, but my parents encouraged me to get involved. So, I developed the lighting show, which helped people see the play in a whole new way.
Now, thanks to the confidence and skills I've gained with AWS, I can develop applications that are good enough to sit front and center within client environments, and I also design cloud-based lighting-show tools for concerts in my spare time. Bringing both my passions together feels great and I'd encourage anyone to take that first step and begin their AWS Training. It'll give you so much more than you expect. It really did for me.
Begin your AWS Training and Certification today. Hear the stories of other developers who are prioritizing cloud learning and creating a new future.