A perk of a career as a developer is helping others: Bruno's story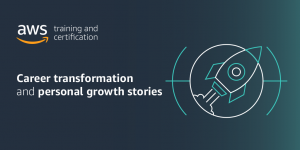 For many years, Bruno has been passionate about all things technology. His fascination with tech started at an early age when he realized that innovation could be used to help others, and he hasn't lost that compassionate streak since.
That sense of communal duty, along with a genuine interest in flexing his creative muscle, led Bruno to AWS Training and Certification. Within a short timeframe, Bruno found his passion was ignited for helping fellow colleagues, too.
Today, Bruno is most proud of the occasions where he has used his skills as a developer to assist others in their journey—whether writing articles, speaking at events, or creating courses to help people pass their certification exams.
It's not surprising, therefore, that Bruno's main drive is to use his experiences to empower others. After all, he's driven by the knowledge that technology can be used as a force for good in the world. If you're like him and would like to do the same, read more about Bruno's story below.
Bruno Almeida, Head of Tech/Architect
What attracted you to a career as a developer and AWS Training and Certification?
In 2012, I was working for F-Secure using several on-premises technologies in my day-to-day work. A lot of the things we were doing, like analyzing malware, weren't the typical workloads that organizations were moving to public clouds at that time. When we started to leverage the public cloud and migrate workloads, I was very involved in designing the architecture and establishing security controls in order to do research and behavioral and static analysis in the public cloud.
The team and I learned everything by ourselves. I have to say, it wasn't an easy or smooth experience because we were often at the deep end of AWS services with edge cases and challenging configurations. That changed when I attended the AWS re:Invent conference in 2017 and discovered their certifications. I wondered whether my real-world knowledge would be enough to achieve a certification, so I booked a few mock exams, did well, and then sat for my AWS Certified Solutions Architect certification exam at re:Invent. Within two days, I was certified.
One year later, I decided to invest heavily in more certifications. My motivation was to use AWS Certifications as a way to validate my existing knowledge and learn best practices, new services, and features that I didn't know existed. By the end of 2019, as a consultant, I was using the certifications to give me a solid foundation of knowledge for new use cases—things like the internet of things (IoT), machine learning, and data analytics. The whole process allowed me to create a very interesting career path.
What did you learn from this process aside from cloud development?
That it's important to create your own learning style. When I started the process, I felt a little overwhelmed with how much information is out there. This prompted me to publish some advice on how to get started with certification and make it a success. Now, I have a huge desire to help others, whether that's by writing articles, speaking at events, or creating courses to help people pass their exams. I've become very passionate about using my experiences to empower others. I think I love coaching and mentoring so much because I used to be an engineering manager.
What has been your most rewarding moment since beginning your AWS Training?
I've worked on over 100 projects using AWS, but what I'm most proud of are the times where I've advised companies on topics they were unfamiliar with, such as security, digital transformation, data, and cloud governance. Revisiting them a year later and seeing the huge difference my advice has made is really rewarding. Every new project reminds me of the first time I wrote an article for the developer community—I was nervous and excited but knew my knowledge would help others succeed.
Giving clients the confidence to experiment with ideas that might have been a big stretch at the time is also very encouraging. When they dare to try and you realize that you've helped them put a whole new business model in place, it's really exciting and makes all the training worthwhile.
Learn more about how AWS Training and Certification can help you advance your career as a cloud developer. Hear the stories of other developers who are prioritizing cloud learning and creating a new future.