We are searching for qualified SMEs to participate in AWS Certification exam development events. SMEs participate in remote and in-person events that focus on the creation and review of exam content as part of our certification exam development process. At each event, SMEs receive training on relevant certification development tasks. SME activities at AWS Certification workshops may include:
Establishing the topics an exam will cover
Developing and evaluating exam questions
Determining the exam's passing score

Benefits

Networking and learning opportunities
SMEs from various backgrounds share their unique use cases and lessons learned at exam development workshops. SMEs also have the opportunity to gain insights into AWS services and feature sets.


Recognition
Add to your resume/CV and LinkedIn page that you contributed to an industry-recognized program. For Certification events, attend multiple events to earn an SME digital badge.
SME gear
Successfully participating in an exam development event gives you the opportunity to earn exclusive SME gear, such as sweatshirts, stickers, AWS Certification exam vouchers, and more.

SME qualifications
Required experience
Relevant hands-on AWS experience
Strong English reading and writing skills
For Foundational- and Associate-level exams: a minimum of one year of hands-on or equivalent AWS experience
For Professional-level and Specialty exams: a minimum of two years of hands-on or equivalent AWS experience
Other requirements
For existing certifications: SMEs must be credential holders in good standing for the given certification

For new certifications: SMEs must hold a relevant certification at that level, plus the equivalent of two to three years of hands-on experience with the subject matter
Please note: We maintain a separation between the development of AWS Training and Certification Learning SME materials and AWS Certification content. Anyone who may profit from a specific knowledge of AWS Certification exam content is not allowed to contribute to AWS Certification exam development. This includes trainers, authors, teachers, and individuals who create training content related to AWS Certification exams.
How to apply
Apply
Complete the program application accurately and as thoroughly as possible. Be sure to indicate your interest in the AWS Certification SME Program.

Accept
If you are selected for an exam development opportunity, a team member will email you an invitation with event-specific details.
Train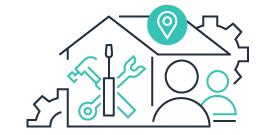 Participate
Participate and collaborate with your peers during an event for a chance to earn exclusive SME gear, AWS Certification exam vouchers, and more.
What people are saying about being an SME
Hear from past workshop participants about their experience and the benefits they've found by participating in the AWS Certification SME Program.

AWS Certification Subject Matter Expert Benefits (1:37)
Please note: This video was recorded prior to the COVID-19 pandemic.