The AWS Training and Certification Learning SME Program is a group of domain, product, technical, and training experts who assist in developing AWS product and solution training and practice exams. These subject matter experts enhance curriculum development by lending their knowledge and expertise to content authoring, development, and review while gaining benefits and earning program rewards for their contributions. Examples of typical SME responsibilities include:
Helping to define course objectives, components, and flow
Providing field insights, UX insights, and lessons learned
Reviewing and validating training content, including end-to-end quality assurance (QA)
Providing on-screen or voice-over talent, or other expertise

Benefits
Skills, expertise, and customer insights sharing
Build content for training, interactive labs, boot camps, practice exams, and other projects that help our customers better understand AWS products and services.


Network and learning opportunities
SMEs are able to make new connections, gain insights into AWS services and feature sets, and lend their unique perspective into AWS learner solutions and training.


Recognition
Add to your resume/CV and LinkedIn page that you contributed to customer learning projects for AWS Cloud products or services, which may also contribute toward your annual goals or body of work.

SME gear
Successfully contributing to a curriculum development project or practice exam event gives you the opportunity to earn exclusive SME gear, such as sweatshirts, travel items, stickers, and more.

SME qualifications
If you have demonstrated experience in one of the below areas, you could be a good match for the AWS Training and Certification Learning SME program:
Writing

or reviewing training curriculum for any organization or any industry

Developing

learning labs for any organization or any industry

Writing

or reviewing practice exam questions

Sharing your expertise of cloud-based domains of knowledge and/or AWS products and

services
Completing

training courses or boot camps that contribute to your skills, knowledge, or experience

Functioning

as an on-screen or voice-over talent
Please note: We maintain a separation between the development of AWS Training and Certification Learning SME materials and AWS Certification content. Anyone who may profit from a specific knowledge of AWS Certification exam content is not allowed to contribute to AWS Certification exam development. This includes trainers, authors, teachers, and individuals who create training content related to AWS Certification exams.
How to apply
Learn
Learn about the AWS Training & Certification Learning SME program purpose, opportunities, and benefits.

Apply
Complete the program application accurately and as thoroughly as possible. Be sure to indicate your interest in the AWS Training and Certification Learning SME Program. A team member may follow up for more information, if needed.

Accept
If you are selected for a Curriculum Development opportunity, a team member will contact you with participation requirements and project-specific details. Review the project details, ask clarifying questions, and commit to a project.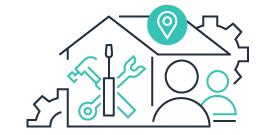 Participate
Participate in project activities and lend your expertise to help support our customers and expand AWS Cloud skills. Collaborate with your peers, gain recognition, and have the opportunity to earn exclusive SME merchandise.