Exam Readiness: AWS Certified Solutions Architect - Professional
Get an overview of exam concepts and structure, see practice questions, and use hands-on labs to practice advanced use cases.
The AWS Certified Solutions Architect – Professional exam validates advanced technical skills and experience in designing distributed applications and systems on the AWS platform. We recommend that individuals have two or more years of hands-on experience designing and deploying cloud architecture on AWS before taking this course, which explores the exam's topic areas, shows how they relate to architecting on AWS, and maps them to specific areas for future self-study. It includes sample exam questions from each domain and discussions of concepts being tested to help test-takers better eliminate incorrect responses.

Course Objectives
In this course, you will learn to:
Navigate the logistics of the examination process
Understand the exam structure and question types

Identify how questions relate to AWS architectural concepts

Interpret the concepts being tested by an exam question

Allocate your time studying for the AWS Certified Solutions Architect – Associate exam
Intended Audience
This course is intended for:
Solutions architects who are preparing to take the AWS Certified Solutions Architect – Professional exam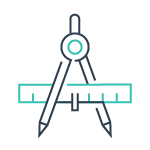 Course Overview

Course Modality
Classroom


Course Language
Available in multiple languages