Kick-Start Your Cloud Storage Project With the Riverbed SteelStore Gateway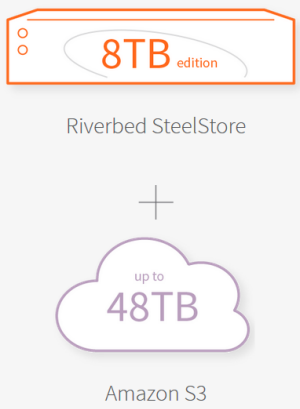 Many AWS customers begin their journey to the cloud by implementing a backup and recovery discipline. Because the cloud can provide any desired amount of durable storage that is both secured and cost-effective, organizations of all shapes and sizes are using it to support robust backup and recovery models that eliminate the need for on-premises infrastructure.
Our friends at Riverbed have launched an exclusive promotion for AWS customers. This promotion is designed to help qualified enterprise, mid-market, and SMB customers in North America to kick-start their cloud-storage projects by applying for up to 8 TB of free Amazon Simple Storage Service (Amazon S3) usage for six months.
If you qualify for the promotion, you will be invited to download the Riverbed SteelStore™ software appliance (you will also receive enough AWS credits to allow you to store 8 TB of data per month for six months). With advanced compression, deduplication, network acceleration and encryption features, SteelStore will provide you with enterprise-class levels of performance, availability, data security, and data durability. All data is encrypted using AES-256 before leaving your premises; this gives you protection in transit and at rest. SteelStore intelligently caches up to 2 TB of recent backups locally for rapid restoration.
The SteelStore appliance is easy to implement! You can be up and running in a matter of minutes with the implementation guide, getting started guide, and user guide that you will receive as part of your download. The appliance is compatible with over 85% of the backup products on the market, including solutions from CA, CommVault, Dell, EMC, HP, IBM, Symantec, and Veeam.
To learn more or to apply for this exclusive promotion, click here!
— Jeff;