The AWS Summit Returns to New York (And Beyond)…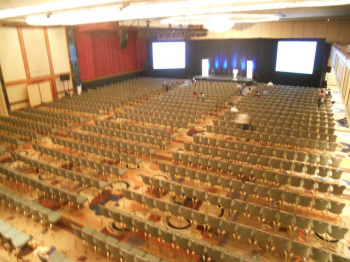 We held our first-ever AWS Summit in New York in early 2011 (I snapped the picture at right before the audience filed in for the keynote).
Due to the great response we received the first time, we're doing it again, this time bigger, louder, and with even more content.
After registering, you'll be able to stroll through the Cloud Solutions Expo to see what our partners are doing with AWS.
Amazon CTO Werner Vogels will deliver the keynote talk, and you'll get to hear from AWS customers PBS and Pinterest.
After a networking lunch (and more time to visit the Cloud Solutions Expo), you can choose sessions from three parallel tracks (executive, technical, and solutions).
Later in the afternoon, you'll have an opportunity to hear from a selection of AWS partners, and the day will conclude with some more time for networking and a prize drawing.
The event is free but space is definitely limited so you'd better sign up today.
We haven't forgotten those who don't live in or around New York. We'll be holding similar summits in London, Tokyo, Singapore, Sydney, Melbourne, Hyderabad, Mumbai, Seoul, Bangalore, and Sao Paulo in 2012. We'll update the AWS Summit 2012 page as soon as we finalize the dates and venues for these can't-miss events.
— Jeff;
Modified 3/12/2021 – In an effort to ensure a great experience, expired links in this post have been updated or removed from the original post.