Executive Conversations: Building Resiliency with Pedro Heilbron, CEO, Copa Holdings
Pedro Heilbron, CEO of Copa Holdings & Copa Airlines, joins Sekhar Mallipeddi, WW Technical Leader for AWS Travel and Hospitality, for a broad-ranging discussion about the recent disruption faced by travel and hospitality companies – and his company's response to that disruption. Copa Holdings is a leading Latin American provider of passenger and cargo services. The Company, through its operating subsidiaries which includes Copa Airlines, provides service to 80 destinations in 33 countries in North, Central and South America and the Caribbean. This Executive Conversation is one of a series of discussions held with industry leaders, where we seek to learn more about their resiliency, tenacity, and capacity for innovation.
The series follows the publication of the AWS Travel and Hospitality E-book: " Building Resilience For The Long Run ." Filled with strategic observations, hints, and tips, the E-book provides guidance for building a more resilient organization, potentially serving as a useful resource as travel and hospitality companies address both current challenges and those yet to come.
—
Sekhar Mallipeddi: While your business is recognized publicly by many, what's one unique characteristic or feature that is either lesser known or understood about your company?
Pedro Heilbron: I would say Copa's strong and unique culture, which is mostly responsible of our successes and consistent industry leading results, be it on-time numbers or financial performance. Everyone at Copa Airlines works towards one unifying vision, with clear corporate objectives and a strong set of values, which bring us together and strengthen said culture.
To maintain a strong and healthy culture, all of our management team must dedicate a significant portion of their time to people-related initiatives, including recruiting the right team, onboarding, training, communications, recognition and alignment with our vision, objectives, and values.
SM: Many companies across travel and hospitality have been managing through a period of unprecedented disruption. What have been the biggest challenges you've faced during this recent period and how have you managed through them?
PH: The first big task was having to completely shut down the airline, on a 3 days' notice, and then restart operations after a "hibernation" period that lasted over 6 months. Then came a series of very difficult actions and decisions required to lower our cost base, reduce cash burn and survive with significantly diminished revenues.
In all of this, the biggest challenge has been to adjust the size of the company under so much uncertainty, while at the same time protecting our company culture, including our corporate values. To manage through this most difficult time, we have significantly increased the frequency of communications with all our employees, been very honest about what we know and don't know and managed all employee decisions in the most humane way possible.
SM: As we all prepare for the next phase of traveler or guest demand, what are some of the changes your company has taken (or plans on taking) to adjust to the current operating environment?
PH: First of all, developing and implementing biosafety policies and procedures, for both passengers and employees, was paramount, which is why we quickly put in place a dedicated team of employees and a medical advisory board to achieve these goals. So far, the initiatives put into action have generated meaningful passenger confidence and allowed us to restart our operation in a very safe way.
We also streamlined and simplified our aircraft fleet, finalizing the sale of our 14 Embraer 190 airplanes, as well as retiring and offering for sale our 14 Boeing 737-700. As the market recovers, these aircraft will be replaced by the new B737 MAX 9's we have on order.
We've also made sure to be flexible, friendly and empathetic with our changing customer needs, by waving change fees and in general making it easier for our passenger to modify their travel plans when needed.
SM: In the face of the current disruption to the travel and hospitality industry, we've observed incredible innovations coming from across the industry. How has your company innovated through these challenging times and what are you most proud of?
As mentioned, Copa had to stop flying, and our team had to manage and prepare for the new biosafety protocols; a massive number of flight cancellations and changes; and a work force that could no longer do their jobs from their desks. In record time, sometimes over a weekend of non-stop work, our team came up with initiatives, such as an app to manage the internal biosafety protocols, including employee tracing and tracking; and self-service digital tools that allow customers to better manage their flight changes or cancellations.
So, I am most proud of the whole Copa team. They have worked as hard as ever, while at the same time having to deal with the uncertainties created by the hardships that our airline and industry are going through, and the personal and family toll of a health crisis like nothing our generation has ever experienced before.
SM: The travel and hospitality industry is incredibly resilient. As you look toward recovery, what role does technology play for your company moving forward? How do you see technology enhancing the customer experience and improving operational efficiency?
PH: For us at Copa, our goal is to let passengers have a higher degree of freedom, flexibility and control of the overall travel experience, by allowing them to manage their complete journey from their own devices. We are not 100% there yet, but this pandemic has confirmed the importance of accelerating the implementation of our digital vision, which we are currently doing. At the same time, keeping our industry-leading on time performance in the face of so many new travel restrictions will require that we further adopt data science initiatives to make sense of, and make decisions from, real time data input.
SM: There's much talk at the moment about how the travel experience has changed and there will be a "new normal" going forward. What does this "new normal" look like to you and how do you think the travel experience will look 3 years from now?
PH: Biosafety for sure will be part of the new normal, even after the pandemic is over. However, as with airport security after 9/11, we will learn to adapt and, eventually, this should not deter anyone from flying. I also expect an even greater emphasis on customers using their personal devices to self-service themselves. The combination of biosafety measures and customer self-service will also push for the adoption of digital immunity passports.
I am optimistic that the industry will recover from this crisis, for nothing can equal a face-to-face meeting, the reunion of family members or the joy of discovering a new destination.
SM: What makes you excited for the future of travel and hospitality? As a traveler or guest, where are you looking forward to visiting next?
The travel and hospitality industry has always been resilient and this time won't be any different. After close to a year within some sort of lockdown or travel restriction situation, most travelers are eager to get on a plane and visit their favorite or dream destination. So, I truly believe that once the pandemic is under control, the travel industry will come back faster than expected. For the business sector, it will take much longer of course, and that's why we are all streamlining our businesses and making the necessary adjustments based on future demand expectations.
As for myself, the last time I spent so many months in a row without traveling was probably 50 years ago, so I just want to get on a plane and travel anywhere, as often as possible. No matter if it's for business or leisure, it will be a pleasure to do so again.
—
Learn more about the new Travel and Hospitality E-book: "Building Resilience For The Long Run."
See more Executive Conversations and industry insights on the AWS Travel and Hospitality Blog.
—
Pedro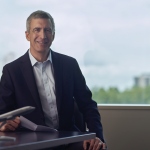 Heilbron is CEO of Copa Holdings (NYSE: CPA) and Copa Airlines, which offers flights to destinations in North, Central and South America and the Caribbean from its Hub of the Americas at Tocumen International Airport in Panama City, Panama.
Heilbron joined as CEO of Copa Airlines in 1988. One of the leading airlines in Latin America, Copa has received extensive international recognition, including FlightStats´ 2019 ranking as the most on-time airline in Latin America for the seventh consecutive year and No. 2 worldwide by OAG. In addition, this past December, FlightGlobal awarded Copa Airlines with the "Decade of Airline Excellence Award 2020" for the Latin American region, highlighting the best airline success stories prior to the ongoing COVID-19 crisis.
Heilbron is a member of the Star Alliance Chief Executive Board, where he served as its Chairman from December 2016, until December 2020, President of the Association of Latin America and Caribbean Airlines (ALTA) and member of IATA's Chair Committee and Board of Governors. He is currently a member of the advisory board of the Smithsonian Tropical Research Institute.
He graduated from the College of the Holy Cross in Worcester, Mass., with a bachelor's degree in economics, and earned an M.B.A. from George Washington University in Washington, D.C.